Politicians join mob bosses in dock over alleged secret pact to end bloodshed.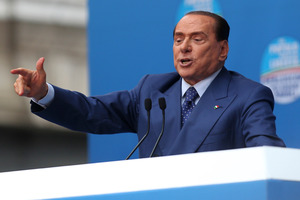 Ten Mafia bosses and high-ranking Italian officials, both former and current, went on trial yesterday accused of striking secret deals to halt a string of mob murders in the 1990s.
Those charged included Toto Riina, a jailed Cosa Nostra boss, Nicola Mancino, a former Interior Minister, and Marcello Dell'Utri, a close aide of Silvio Berlusconi, the former Prime Minister.
Held in a high-security "bunker" courthouse near Palermo, the trial will seek to lift the lid on a murky and murderous period in Italy's history using new evidence from Mafia turncoats.
Giorgio Napolitano, the Italian President, is among 178 witnesses expected to give evidence.
Prosecutors allege that politicians sent police officials to negotiate with Mafia bosses who mounted a series of bomb attacks in mainland Italy as well as murdering two anti-Mafia magistrates in Palermo, Giovanni Falcone and Paolo Borsellino, in 1992.
In return for a halt to the killings, criminal bosses allegedly demanded a relaxation of the harsh prison conditions meted out to jailed mafiosi.
Mario Mori, a former official with the Carabinieri paramilitary police and an alleged go-between, is among the accused, as is Massimo Ciancimino, the son of the late mayor of Palermo, who allegedly acted as an intermediary for bosses.
Dell'Utri, who awaits a final Supreme Court verdict on a separate conviction for ties to the Sicilian Mafia, has worked with Berlusconi since the 1970s, helping him form his Forza Italia political movement in 1993.
Gaspare Spatuzza, a Mafia turncoat, has claimed a senior boss told him that Berlusconi held talks with the mob about stopping the bombings before he entered politics.
He claimed that Dell'Utri, who has denied all the allegations, was Berlusconi's intermediary.
Mancino, who has served as head of the Italian Senate as well as Interior Minister, is accused of lying to investigators, but said as the trial opened that he did not deserve to be tried alongside mobsters.
"I have always fought the Mafia, I cannot stay in the same trial in which there are mafiosi," he said.
The trial was adjourned until Saturday after a procedural request by prosecutors and defence lawyers.