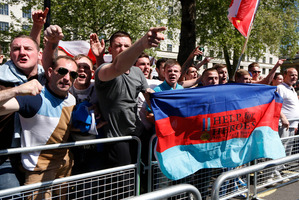 The suspected Woolwich murderer Michael Adebolajo made a second attempt to travel to Somalia to join extremists there just last year, the Daily Telegraph understands.
The alleged terrorist wanted to try again to head for the Jihadist hotbed after his first attempt failed in 2010.
Adebolajo was picked up in northern Kenya along with five other young men who were being monitored by the police, on the suspicion they were planning to join the al-Shabaab terror group in neighbouring Somalia.
However, he was warned against going last year by MI5 who said he would be caught again by the Kenyans if he did, sources suggested yesterday.
His friend Abu Nusaybah claimed on Saturday that Adebolajo had been caught and tortured in Kenya last year - raising the prospect of whether Adebolajo did manage to travel out there again.
Meanwhile, vandals have attacked two of Britain's most celebrated war memorials, the RAF Bomber Command War Memorial and the Animals in War Memorial, both in London, apparently daubing them with the word "Islam" and covering over inscriptions.
The news emerged as around 1000 English Defence League (EDL) demonstrators marched to Downing St. A much smaller group of anti-fascist demonstrators gathered opposite them holding an "EDL Racists" banner. Both sides traded insults but were kept apart by officers and barriers.
There have been increasing tensions since the killing of soldier Lee Rigby by two Islamist extremists last week, and at least 10 mosques have been attacked.
The Grimsby Islamic Cultural Centre was attacked with petrol bombs despite extra police patrols in the area after a similar attack three days ago.
Mosque chairman Diler Gharib was inside the mosque with a young family when it was attacked.
Two people have been charged with arson and intent to endanger lives.