Adebolajo detained with radical Muslim youths seeking to join terrorist group.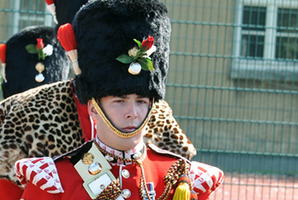 One of the suspects in the murder of Drummer Lee Rigby once appeared in court in Kenya accused of leading a group of Islamists trying to join terrorists in Somalia.
Michael Adebolajo was held by police close to the Somali border with a band of "radicalised" Muslim youths who wanted to join the notorious al-Shabaab group.
He was deported to Britain after he appeared in court in Mombasa in November 2010.
Two months previously the head of MI5 had warned that Britons were training in Somalia, and it was "only a matter of time before we see terrorism on our streets inspired by those who are today fighting alongside al-Shabaab".
It also emerged that the other suspect in the soldier's murder, Michael Adebowale, 22, was detained by police in London two months ago after shopkeepers complained about a group of Muslim activists.
The disclosures raise further questions about monitoring by the security services of Adebolajo, 28, and Adebowale, whom sources have said was known to MI5 but not assessed as a "threat to life".
In other developments:
•Calls were made for Anjem Choudary, the leader of the al-Muhajiroun group, to which Adebolajo has been closely linked, to be subject to a Terrorism Prevention and Investigation Measure, the successor to control orders;
•There was praise for the thousands of people who have left flowers and messages at the scene of the murder of Drummer Rigby in Woolwich, south-east London, but growing concern at the number of anti-Muslim incidents being dealt with by police;
•The father of Damilola Taylor, the boy murdered in 2000 in southeast London, told how he had mentored Adebowale before the former gang member turned to radical Islam.
A report on MI5 and MI6's knowledge of and assessment of the two suspects will be given this week to MPs who scrutinise the security services.
The Sunday Telegraph has established that Adebolajo was arrested by Kenyan authorities in the coastal town of Lamu before being taken to Mombasa, where he was detained. He appeared in court in late November 2010 alongside other alleged Islamists. He and the others, who were said to age from 18 to 22, were remanded to a local police station.
Adebolajo is understood to have said in court that he wanted access to legal services and to talk to the British Ambassador to Kenya. He also complained that the police had told him he was a Christian, when he was a converted Muslim.
"He was very arrogant. He was restrained and handcuffed very well," the source said. "We deported him back to the UK. When he was back in the UK he complained about us, that we tortured him.
"The British Embassy in Nairobi wrote to us about the complaint. We told them that we did not torture him. I do not know if the letter arrived, but that was what we wrote to them."
According to newspaper reports at the time, the group boarded a speedboat from Lamu Island to the village of Kizingitini before their arrest. Police suspected Adebolajo of masterminding a plan for the youths to join al-Shabaab in Somalia.
Pamphlets connected with al-Shabaab were recovered during the police operation. The other youths who appeared with Adebolajo said they were recruited from a mosque in Mombasa by a radical imam.
While in Lamu, they spent time at an isolated madrassa. Lamu, 109km from the Somali border, is considered the key crossing point to the country.
The case raises questions about why Adebolajo was not put under greater surveillance or even prosecuted after his deportation from Kenya.
Under the Terrorism Act 2006, it is an offence to travel or intend to travel overseas to commit acts of terrorism or take part in terrorist training.
Evidence from the Kenyan authorities could have been used in the UK to prosecute Adebolajo.
Several Britons have been convicted of similar offences, including the white Muslim convert Richard Dart and his co-defendants earlier this year. They admitted planning to travel to Pakistan to seek terrorist training, and had discussed attacking the military-supporting town of Royal Wootton Bassett in Wiltshire.
The Independent reported yesterday that after the incident, members of Adebolajo's family said he was "pestered" by MI5 agents pressuring him to become an informant for them and infiltrate radical Islamic extremist groups.
Relatives said other family members were also harassed and questioned by the UK authorities.
Adebolajo's brother-in-law claimed constant demands to get him to spy on Muslim clerics might have pushed him over the edge.
A friend of Adebolajo has told the BBC that MI5 had attempted to recruit the suspected killer six months ago.
Sir Malcolm Rifkind, who leads the body that oversees the work of the intelligence services, said the organisations had "serious questions to answer".
The MI5 chief, Andrew Parker, will provide a written report on the incident this week, before he is called before the Intelligence and Security Committee (ISC).
But Rifkind, who is chairman of the ISC, pledged that the committee would also use new powers to force intelligence agencies to hand over all confidential documents relating to the case.
Abu Zuybyr, who is married to Adebolajo's sister, Christiana, said last night that his brother-in-law had recently been "elated" following the birth of his child. But added: "Then things became a little strange."
Speaking from a cafe in the shadow of a mosque in an east Lancashire town, just before midday prayers, Zuybyr said: "Why did he suddenly flip?" As family members struggled for explanations for Adebolajo's actions, they speculated that pressure from the security services to turn informer may have pushed him to act.
"That is what the [Adebolajo's] family is saying, that the secret service pushed him over the edge," his brother-in-law claimed.
Adebolajo's elder brother, Jeremiah, had gone to Saudi Arabia to teach English, but had been arrested and harassed by the authorities about his brother. And Zuybyr himself said that when he went to Yemen four years ago to learn Arabic with his new wife, he was rounded up and questioned at gunpoint.
He added: "When I came back to Britain, MI5 contacted me and showed significant interest in Michael. I was harassed for a while, with constant calls from people claiming to be from the FBI." Zuybyr and his wife left their family in London and moved to east Lancashire, but he said MI5 had still tracked him down and questioned him about his brother-in-law.
The arrest of the other suspect, Adebowale, two months ago in London, followed complaints from shopkeepers about the activities of extremist Muslims, sources said.
More details of his life were disclosed by Damilola Taylor's father, Richard, who recalled how he tried to mentor the suspect when he was younger.
Taylor is Nigerian-born, while both suspects are of Nigerian descent. He said: "He [Adebowale] was a young, lovable boy, quiet. Suddenly I started hearing that he's getting involved in issues around gangs and drugs and I was not very happy with that. I'm terribly shocked."
Colonel Richard Kemp, former commander of British forces in Afghanistan and a past chairman of the Government's Cobra intelligence committee, conceded that MI5 and the police could possibly have done more to prevent the shocking murder.
But, he added: "It would have required probably significant additional resources, so that they can increase the number of suspects they monitor. Even though these two were on their radar, they have to prioritise who they look at, because surveillance, monitoring and communications is all very expensive. And maybe they need more resources to do that if it is necessary to widen the net, which I think probably it is."Telegraph Group Ltd, Independent