White House says President learned of inappropriate targeting of right-wing groups from news reports.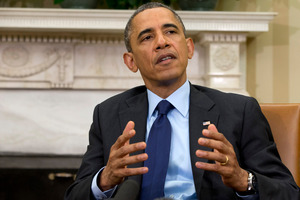 Controversy continued to swirl around the White House yesterday with developments on two fronts.
It was revealed that the White House chief of staff and other senior advisers knew in late April that a report was likely to find that employees of the United States tax agency had inappropriately targeted conservative political groups.
But the White House said the advisers did not tell Barack Obama, leaving the President to learn the results from news reports.
The White House defended that decision, with press secretary Jay Carney saying Obama was comfortable with the fact that "some matters are not appropriate to convey to him, and this is one of them".
The decision to keep the President in the dark about the Treasury Department report underscores the White House's cautious legal approach to controversies, as well as an apparent desire by top advisers to distance him from troubles threatening his Administration.
Opposition Republicans have seized on the audit by a Treasury Department inspector-general, which found that Internal Revenue Service employees singled out groups with names like "tea party" and "patriots" for special scrutiny that delayed their applications for tax-exempt status, including during last year's presidential election.
Also yesterday, it was reported that the US Government is prosecuting a State Department expert on North Korea in a probe that appears to step into uncharted territory - by declaring that a journalist is committing a crime in disclosing leaked information.
It is the latest case of the Obama Administration investigating classified information improperly disclosed to reporters.
During the investigation of State Department adviser Stephen Kim, law enforcement officials obtained a search warrant for some private emails of James Rosen, the chief Washington correspondent for Fox News.
Kim, who is awaiting trial, is accused of revealing secrets to the news organisation. No charges have been filed against Rosen.
An FBI agent seeking the search warrant spelled out the Government's view of the journalist's role, saying the reporter was a co-conspirator and that there was probable cause to believe that the reporter committed a violation of criminal law.
"We are outraged to learn today that James Rosen was named a criminal co-conspirator for simply doing his job as a reporter," said Michael Clemente, Fox's vice-president for news.
"In fact, it is downright chilling. We will unequivocally defend his right to operate as a member of what, up until now, has always been a free press."
- AP