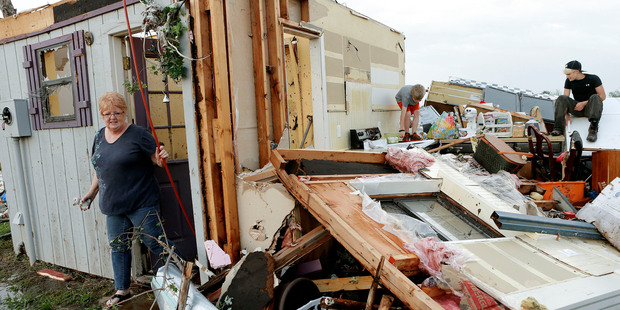 Tornadoes ravaged parts of Oklahoma yesterday, reducing portions of a mobile home park to rubble and killing a 79-year-old man whose body was found out in the open.
The tornado in Shawnee was one of several that touched down in America's midsection. Twisters, hail and high winds also struck Iowa and Kansas as part of a massive storm system that stretched from Texas to Minnesota.
"You can see where there's absolutely nothing, then there are places where you have mobile home frames on top of each other, debris piled up," Pottawatomie County Sheriff Mike Booth said after surveying damage in the Steelman Estates Mobile Home Park. "It looks like there's been heavy equipment in there on a demolition tour ... It's pretty much wiped out."
Across Oklahoma, 21 people were injured, not including those who suffered bumps and bruises and chose not to visit a hospital, said Keli Cain, a spokeswoman for the Oklahoma Department of Emergency Management. Booth said six at Steelman Estates were hurt.
Forecasters had been warning of a general storm outbreak since last Thursday, and for yesterday's storms some residents had more than 30 minutes notice that a twister was on the way.
The trailer park was among the hardest-hit areas, and among the hardest to reach, as overturned tractor-trailers forced the closure of a section of a highway and power lines draped across roads.
James Hoke lives with his wife and two children in Steelman Estates. He said the family went into their storm cellar as the storm approached. When they came out, their mobile home had vanished. "It took a dead hit."
A storm spotter told the National Weather Service that the tornado left the earth "scoured" at the mobile home park - using a term used by storm chasers to describe grass being ripped out by high winds.
Governor Mary Fallin declared an emergency for 16 Oklahoma counties.
- AP