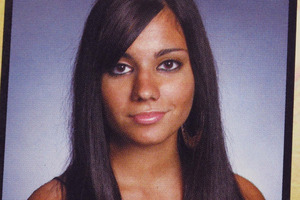 In what police are describing as a crime of opportunity, a wanted man with a criminal history dating nearly 15 years entered a front door that had been left open at a New York home near Hofstra University.
A short time later, the intruder, Dalton Smith, and a 21-year-old college junior, Andrea Rebello, were both dead.
The two were killed early Friday by a Nassau County police officer who fired eight shots at the masked man, hitting him seven times but also accidentally hitting Rebello once in the head, Nassau County homicide squad Lt John Azzata said.
Smith was holding Rebello in a headlock and pointing a gun at her head before he turned his gun at the officer, Azzata said, prompting the shooting.
"He kept saying, 'I'm going to kill her,' and then he pointed the gun at the police officer," Azzata said.
A loaded 9mm handgun with a serial number scratched off was found at the scene, police said.
Nassau County Police Commissioner Thomas Dale said he had travelled to Rebello's Tarrytown, New York, home to explain to Rebello's parents what happened.
"I felt obligated as a police commissioner and as a parent to inform them as soon as all the forensic results were completed," Dale said.
The veteran police officer, who was not identified, has about 12 years of experience on the Nassau County police force and previously spent several years as a New York City police officer, Dale said.
The officer is currently out on sick leave. He will be the focus of an internal police investigation once the criminal investigation is completed, which is standard police procedure in any officer-involved shooting, the commissioner said.
The shooting came just days before the school's commencement ceremonies, which are scheduled for Sunday.
A university spokeswoman said students will be handed white ribbons to wear in memory of Rebello. The shooting, which took place just steps from campus, has cast a pall over the university community as it geared up for commencement.
Earlier Saturday, police announced that Smith, 30, had been wanted on a parole violation related to a first-degree robbery conviction. A warrant was issued for Smith on April 25 for absconding from parole, police said.
Smith had what police described as "an extensive criminal history," which included arrests for robbery in the first degree in 1999, promoting prison contraband in the second degree in 2000, robbery in the first degree in 2003, assault in the second degree in 2003 and robbery in the second degree in 2003.
Rebello was in the two-story home in Uniondale, New York, with her twin sister Jessica, a third woman and a man when Smith, wearing a ski mask, walked into the house through an open front door, Azzata said.
The door was left open after someone had moved a car that was blocking a driveway, Azzata said.
When Smith entered, he demanded valuables and was told they were upstairs, Azzata said.
Smith, apparently unsatisfied with the valuables upstairs, asked if any of the four had a bank account and could withdraw money, Azzata said. The intruder then allowed the unidentified woman to leave and collect money from an ATM, telling her she had only eight minutes to come back with cash before he killed one of her friends, Azzata said.
The woman left for the bank and called police, according to Azzata.
Minutes later, two police officers arrived at the home and found Rebello's twin sister Jessica running out of the front door and the male guest hiding behind a couch on the first floor, Azzata said.
One of the officers entered the home and encountered Smith holding onto Rebello in a headlock, coming down the stairs, Azzata said. Smith pulled Rebello closer and started moving backward toward a rear door of the house, pointing the gun at her head before eventually threatening the officer, Azzata said.
The Reverend Osvaldo Franklin, who gave Rebello and her twin their first communions, said their mother, Nella, couldn't even speak to him earlier in the day.
"She was so devastated," said Franklin. "She's just crying. We have to pray for Andrea, to pray for Jessica because she needs help."
Franklin said a funeral is scheduled for Wednesday at Teresa of Avila Church in Sleepy Hollow, New York, and will be in Portuguese.
"The family's a very good family, they have very good values," he said. "They are a very good, very devoted family."
OFFICER'S HARROWING SPLIT-SECOND DECISION
The police officer who accidentally killed a Long Island college student along with an armed intruder faced the most harrowing decision of a law enforcement career: choosing the split-second moment when the risk is so high that you must act to save a life, says an expert in the field.
"The big question is, how do you know, when someone's pointing a gun at you, whether you should keep talking to them, or shoot?" said Michele Galietta, a professor of psychology at the John Jay College of Criminal Justice who helps train police officers.
"That's what makes the job of an officer amazingly difficult."
She spoke as Hofstra University students honoured 21-year-old Andrea Rebello by wearing white ribbons at their graduation ceremony.
Rebello was killed two days earlier when a masked man walked through the unlocked door of her off-campus home. A police officer aiming at the would-be robber opened fire, hitting the Hofstra junior as well as the ex-convict holding her in a headlock.
On Saturday evening, flags on the Mineola campus were at half-staff and students held a silent outdoor vigil in front of a photo of the young woman. Surrounded by candles and flowers, they sang Ave Maria.
Rebello's funeral is scheduled for Wednesday in Sleepy Hollow, in Westchester County, north of New York City.
Her life ended in split seconds that forced the veteran police officer to make a fatal decision, but the questions surrounding the student's death are just beginning, along with an internal investigation by the Nassau County Police Department.
The bare facts are simple. Rebello and the intruder, Dalton Smith, died early Friday when the officer fired eight shots, hitting him seven times, with the eighth bullet striking Rebello once in the head, according to county homicide squad Lt John Azzata.
With a gun pointed at her, Smith "kept saying, 'I'm going to kill her,' and then he pointed the gun at the police officer," according to Azzata.
The would-be robber then made a motion indicating he was about to fire, according to authorities.
The officer acted quickly, saying later that he believed his and Rebello's life were in danger, according to authorities.
No doubt, he was acting to try to save lives - his own and that of the young woman, Galietta said.
But the fallout was tragic.
"What we're asking the cop to anticipate is, 'What is going on in the suspect's mind at the moment?'" she says. "We're always trying to de-escalate, to contain a situation, but the issue of safety comes in first, and that's the evaluation the officer has to make."
In collaboration with the New York City Police Department, Galietta is part of a John Jay program that prepares young officers to react to life-threatening situations. Actors are used to replicate scenarios reflecting reality.
Police tactical manuals are meant to assist officers in making the best decision possible, but in the end, "they're not 100 percent foolproof," Galietta said. "In a situation like that, you can follow procedure, and it doesn't mean it comes out perfectly."
The officer who fired the shots is an eight-year NYPD veteran and has been with Nassau County police for 12 years.
He is now out on sick leave, Azzata said.
- AP