Kremlin puppet-master Vladislav Surkov was best known for oversight of Putin's 'managed democracy'.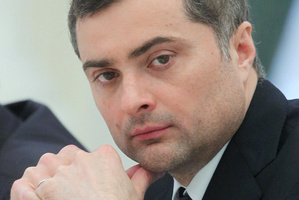 He was a colossus in his field, renowned for his skilful manipulation of his rivals and the media, as well as for being a tenacious survivor and a tactical genius.
No, not Sir Alex Ferguson, but Vladislav Surkov, the Kremlin insider who also resigned yesterday.
For more than a decade, Surkov was perhaps the single most influential ideologue in Russia. He coined the concept of "sovereign democracy" championed by the President, Vladimir Putin, and was regarded as the architect of the tightly controlled political system that has dominated Putin's Russia.
He was referred to as the "grey cardinal of Russian politics"; a puppet-master and manipulator extraordinaire who was one of the most powerful people in the country.
Surkov, 48, was moved from his shadowy role in the presidential administration to the post of Deputy Prime Minister in December 2011, and since then has been responsible for modernisation in the Russian economy.
Now he has departed the political scene entirely, possibly falling victim to a vicious behind-the-scenes battle inside the Russian elite.
In recent days Surkov had traded public barbs with the spokesman for the powerful Investigative Committee, Vladimir Markin. The committee, seen as the preserve of a hawkish hardline faction within Russian politics, was investigating Skolkovo, the "Russian silicon valley" project Surkov oversaw.
Surkov, who bears a passing resemblance to Rowan Atkinson, was no ordinary grey Russian technocrat. Although he almost never gave interviews to the media, the occasional glimpses that the outside world were given into his life hinted at an unusually eccentric character for someone in his position.
He wrote rock songs, is widely believed to have written a nihilistic novel under a pseudonym, and also penned occasional columns for a Russian magazine on topics ranging from the art of Joan Miro to his appreciation of Bollywood films.
Described by a source who used to work in the presidential administration as a "power guy, not a money guy", Surkov has always given the impression of a man who enjoys being in control of political processes, rather than who is in the Kremlin to benefit from the access to shady illicit funds that such posts reportedly offer. Half Chechen and with a penchant for wearing slim black ties, Surkov is famously ruthless, and began his career working for oligarchs in the 1990s, including the now-jailed Mikhail Khodorkovsky.
During his years in the presidential administration, Surkov was known for his personal control over much of what was shown on state-controlled television, and for his oversight of the "managed democracy" that became a hallmark of Putin's political system. He would arrange for the creation of "loyal opposition" parties to give the semblance of competition, and then disband them if they became too genuinely popular.
When Mikhail Prokhorov, at one point Russia's richest man, set up a political party in the run-up to the 2011 parliamentary elections, he did so with the support of Surkov, but then became angry about the level of control the Kremlin official wanted to have over his new party.
At the time, Prokhorov said he would demand a meeting with Putin and the then-President, Dmitry Medvedev, and insist that Surkov was sacked.
Prokhorov lost that battle, but Surkov was sidelined a few months later, moved from the Kremlin to the Deputy Prime Minister's job.
Some put this down to a more hawkish mood in the Kremlin ahead of Putin's return to the top job. The President has replaced Surkov's nuanced understanding of moderate authoritarianism with a more hard-nosed approach, since it was threatened by massed street protests that began in December 2011, shortly before Putin's re-election.
Putin's spokesman, Dmitry Peskov, said that Surkov resigned of his own volition, because of the Government's inability to fulfil a number of recent presidential decrees. Many analysts, however, speculated that he was pushed out and suggested that the Prime Minister and Putin's former protege, Dmitry Medvedev, could also soon be shown the door as Putin tries to balance different interest groups within the Government.
Surkov told Russian media that his future plans included writing "a political comedy based on real events".
- Independent