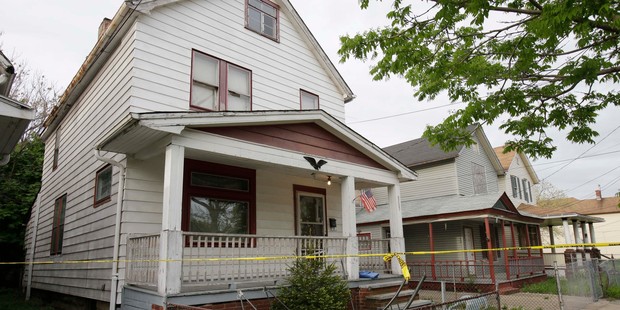 With its white boarding, neatly-kept lawn and Stars and Stripes flag fluttering from the porch, nothing at the house at 2207 Seymour Ave gave away its secrets.
What might seem the most obvious theory, that the house was some kind of cleverly-disguised jail, is not necessarily the most likely.
While police said that they thought the three girls had been tied up, kidnap specialists point out that holding them prisoners against their will would be difficult to do without neighbours becoming suspicious, especially over a long period of time.
Quite apart from the challenges of building a cellar or strongroom that was both sound-proof and escape-proof, the logistics of keeping people fed, watered and guarded would be considerable. It is perhaps surprising nobody noticed extra groceries and household rubbish coming and going from the house, given that the owner, Ariel Castro, appears to have lived there alone.
"If you are holding hostages, you have to set up a routine or pattern in terms of guards, logistics, and food," said Leslie Edwards, a hostage specialist with British firm Compass Risk Management, who has dealt with more than 100 different kidnap cases worldwide.
Not all barriers have to be physical. With younger, more vulnerable abduction victims, threats of violence and other psychological intimidation tactics could ensure that they would never dare escape. Such was the case with Natascha Kampusch, the Austrian schoolgirl who was abducted at the age of 10 and held for more than eight years by Wolfgang Priklopil in the cellar of his home in Strasshof, outside Vienna.
As she grew older she was given the run of both his house and garden, and was even allowed to go out with him at times. However, she said he regularly beat her up and threatened to kill her if she ever tried to raise the alarm.
Another Austrian, Josef Fritzl, who kept his daughter Elisabeth locked in a cellar for 24 years while fathering seven children with her, told his captives that they would be gassed or electrocuted if they tried to escape. The credibility of such threats matters little - what is important is the credibility of the jailer as a figure of fear, according to Jim Alvarez, a London-based hostage negotiator and psychologist.
"If people are psychologically dominated, there is no need for walls and locks alone to keep them in thrall to their abductors," he said.
A final theory is that the three women may have acquired Stockholm Syndrome, the condition in which hostages supposedly bond with their captors. Some experts claim to have detected this in the case of Jaycee Dugard, who was kidnapped at age 11 from her home in California and held for more than 18 years by Phillip Craig Garrido, a convicted sex offender and crystal meth user.
Dugard, with whom Garrido had two children, spent most of her time in an enclosed area behind his house, yet sometimes answered the door to callers and never attempted to leave. After his arrest, she maintained that although she knew he was a convicted sex offender, he was a "great person" and was "good with her kids".
However, most analysts agree that genuine Stockholm Syndrome cases are the exception, not the rule.
"Stockholm Syndrome happens much less frequently than people think, although it's likely that over the course of 10 years, a prisoner will encounter some of their captor's humanity as well as their brutality, and they may have conflicting feelings about it all afterwards," said Alvarez. "Having said that, in this case, [Amanda] Berry appears to have escaped, so whatever element of Stockholm Syndrome she might have had clearly had its limits."


Amanda Berry: Mum died of a broken heart
When Amanda Berry's mother, Louwana, died in 2006, three years after the disappearance of her daughter, friends said she had been able to withstand the anguish no longer.
"She died of a broken heart," said Dona Brady, a local councillor. Two years earlier, a psychic had told her to give up hope: her daughter was dead.
Amanda vanished about 7.30pm on April 21, 2003, the day before her 17th birthday, minutes after leaving work at Burger King in the west of Cleveland.
The teenager had called her sister, Beth, to say she was getting a lift home. "I've got a ride. I'll call you back." She never did, and she never arrived.
"I don't know if she's out there being held, I don't know if she's out there laying on the side of the road somewhere," her mother told the local newspaper the next month. "Who gave her that ride?"
Then, seven months after she disappeared, there was a lead. Someone used Amanda's mobile to call her mother. But it could not be traced, and the trail once more went cold.
Louwana Miller was only 44 when she died of heart failure.
While the two teenagers' names had remained on the tips of most tongues in Cleveland for the past decade, Michelle Knight's barely registered until yesterday.
Knight, 32, was presumed by police to have run away from home in August 2002, furious at losing custody of her young son. "She was the focus of very few tips and leads," said Ed Tomba, the Cleveland deputy police chief.
Yet her mother, Barbara, maintained that the 21-year-old, last seen at a cousin's house, would not have left without letting her family know. After police dropped their inquiries, Barbara Knight plastered "missing" posters around the city, and claimed to have seen her daughter at a shopping centre. But the woman, dragged by a male companion, did not turn around when she shouted Michelle's name.
"So much has happened in these 10 years," Barbara said. "She has a younger sister she still has not met. I missed her so much while she was gone."
Gina DeJesus: Friend of suspect's daughter
Georgina DeJesus was 14 when she vanished after school on the chilly afternoon of April 2, 2004.
For the next nine years her family and friends would hold a vigil on the anniversary. Among them was Arlene Castro, the daughter of the man suspected of being behind the kidnapping.
Gina had been grounded for smoking, prompting speculation that she had run away. But the authorities became sure she had been abducted.
Her disappearance, almost a year after Amanda Berry's, prompted suggestions of a serial attacker. In 2006, police questioned two men but they were released after a search of their home proved fruitless. They dug up a garage elsewhere, to no avail. But her family never gave up. Her cousin Sylvia Colon said: "We were living every day in the hope she would come home - and she did."