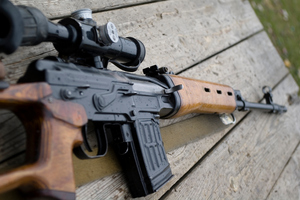 Papua New Guinea's Government is considering implementing death by firing squad as it moves towards toughening penalties for violent crime.
The National Executive Council - a Cabinet-like body - has agreed to bring a series of bills aimed at toughening the PNG criminal code to Parliament when it meets in two weeks.
The changes will also activate the nation's existing death penalty, scrap its controversial sorcery act and dramatically increase sentences for rape and armed robbery.
PNG Prime Minister Peter O'Neill says the level of serious crime in the community is unacceptable, particularly crimes of sexual nature and murder.
"The heinous behaviours are perpetrated by a few but the country at large is made to suffer. We must act now to protect the majority," he said.
"The proposed laws are tough but they are necessary. We have to address a situation that is destroying our country."
Under the proposed laws, rape will now mean life imprisonment without parole while armed robbery will mean 30 years in jail.
The sorcery act will also go. In PNG, where belief in magic is widespread, it has been used by accused murderers to claim self-defence.
Drug abuse will attract a minimum of 10 years in prison, while the penalties for all forms of assault will increase.
In relation to activating the death penalty, the Cabinet has discussed death by firing squad, which is considered more humane and less expensive than other methods such as hanging or lethal injection.
- AAP