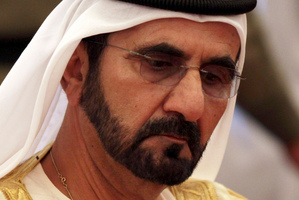 A couple of years before he succeeded his brother as ruler of Dubai in 2006, Sheikh Mohammed bin Rashid al Maktoum, never a man plagued by self-doubt, developed an idea to have some of his own poetry written on the sea of the Gulf.
The poetry would be in the form of man-made islands, constructed by thousands of the indentured migrant workers who form the bulk of Dubai's population, and on which top international footballers and the like might be encouraged to buy ocean-front real estate.
It was imagined that the lines, written in Arabic in concrete and sand, would be large enough to be read from space.
In devising such a plan, you imagine that most world-class self-mythologisers might have been content with a single line of verse. Sheikh Mohammed decided on a whole stanza.
"Take wisdom from the wise," the script would run. "It takes a man of vision to write on water/ Not everyone who rides a horse is a jockey/ Great men rise to greater challenges."
Despite property on the planned islands being sold out in advance, this was one of the few wild schemes that was never realised in Dubai's decade of outrageous construction. Other ocean-and-desert-defying projects were made - the Palm Resort of frond peninsulas, the World, a mini globe of islands out at sea, the Burj Khalifa, the world's tallest building, and mile upon mile of gravity-mocking condos, hotels and office blocks.
This development programme was just one aspect of the 63-year-old's drive toward world domination. At the same time he was creating the largest and most expensive stable of fast horses in human history.
Sooner or later, though, every myth-making dictator is met with a dose of reality. For Mohammed, this came first with Dubai's post-credit crunch bust, which saw a collapse in property prices, and the humiliating need for an up to US$20 billion bailout from "Uncle Abu Dhabi" in 2010, a debt still to be repaid.
The events of the last two weeks at the headquarters of his racing operation, Godolphin, in Newmarket, east England, have been a defining moment in his private obsession.
The random dope testing of horses under control of his joint head trainer Mahmood al-Zarooni, which identified the widescale use of banned anabolic steroids, most notably in the sample of the top-rated two-year-old filly in Europe, Certify, has been a personal humiliation for Mohammed.
It was a measure of his shame at this exposure that he took the unusual step of including his apologetic statement about the events that led to al-Zarooni's ban from British racing for eight years on his official website.
"I was appalled and angered to learn that one of our stables has violated [the] ethical standards and the rules of British racing," the statement said. "I have been involved in British horse racing for 30 years and have deep respect for its traditions and rules. I built my country based on the same solid principles."
Despite suggestions the scandal might tempt Mohammed to retreat from the UK, insiders suggest the opposite will be the case. He is nothing if not persistent. Anyone who believes otherwise might try the endurance test of his poetry, in which the race is always hard, as those verses that might have been written in the sea went on to suggest:
"At times even the wise and experienced are tormented with bewilderment, fear and delusions/ Determined we moved along unwaveringly buoyant, riding the earth's saddle and steering its reins."
The Mohammed file
Born: Mohammed bin Rashid al Maktoum in Dubai, July 15, 1949. He is the third of four sons. Married his "senior" wife, Sheikha Hind bint Maktoum bin Juma al Maktoum, in 1979. His "junior" wife is Princess Haya bint al-Hussein, daughter of the King of Jordan. He has 23 acknowledged children: nine sons and 14 daughters.
Best of times: After becoming crown prince in 1995, he oversaw a series of ambitious development projects. In 2006, he became ruler of Dubai following the death of his elder brother.
Worst of times: In 2008, fearing humiliation if Dubai went bust, he received a US$10 billion loan to save Dubai World - his main investment company - from bankruptcy. The headquarters of his horse racing operation, Godolphin, in Newmarket, east England, is embroiled in a doping scandal.
What he says: "I have been involved in British horse racing for 30 years and have deep respect for its traditions and rules. There can be no excuse for any deliberate violation."
What others say: "He's only about 5ft 8in but he has the charisma of a ruler about him. He is always surrounded by people but it is he who leads, makes the decisions." Brough Scott, a jockey turned commentator, who set up the British racing newspaper Racing Post with the sheikh's backing.
- Observer