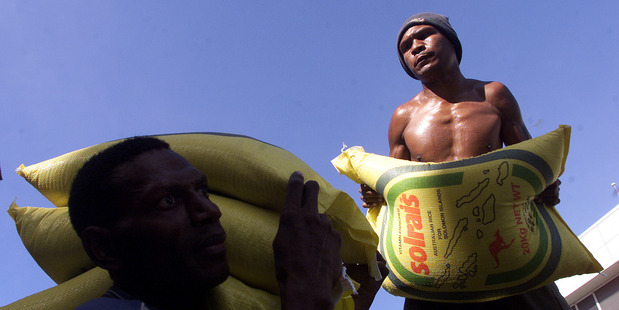 In Honiara, where much of the fighting occurred during the "Tensions" which brought the Solomon Islands to political and economic collapse a decade ago, people now go about their daily lives with freedom and security.
As the country enters a new phase with the Regional Assistance Mission to the Solomon Islands (RAMSI) withdrawing military personnel this year, many Solomon Islanders acknowledge progress toward reconciliation, but also the need to continue addressing issues of land ownership, development and restoration of a healthy society.
"People have been reconciled and you can see there is healing when there is acceptance, restoration of relationships and communal activities slowly come back," Rev Graham Mark, Secretary of the Anglican Church of Melanesia's (ACOM) Commission on Justice, Reconciliation and Peace, said. "All those things tell us we have achieved something, but the challenge is to sustain what has been achieved."
Resentment by the indigenous Gwales of Guadalcanal towards Malaitan settlers on their island escalated as unemployment and hardship worsened during the 1997-98 Asian economic downturn. The island of Malaita, 100km east of Guadalcanal Island, is heavily populated and, from the early 1900s, Malaitans dominated migrant labour on Guadalcanal's plantations and then urban jobs as Honiara became the hub of services and employment.
The local Isatabu Freedom Movement (IFM) evicted Malaitan settlers, accusing them of taking land and jobs, before taking up arms against rival resistance group Malaita Eagle Force (MEF). By 2002, 35,000 people, or 9 per cent of the population, were displaced, several hundred had died or disappeared and many more experienced or witnessed human rights violations.
The National Truth and Reconciliation Commission (TRC) began hearing people's testimonies in 2010 and delivered its final report to the government last year, although it is yet to be passed through Cabinet before public scrutiny.
Reuben Lilo, director of peace and reconciliation in the Ministry of National Unity, says the TRC programme captured the experiences of many people, but more attention is needed to support this occurring in rural areas where there are limited government services.
"There are still quite a number of individuals and communities who still need to speak out," he said. "Some are not sure if they will be protected. There are some arms still in the country and that somebody who is the perpetrator to them could be living next door."
Meanwhile, ACOM's commission has focused on trauma counselling.
"Our position is that healing comes first before reconciliation," Mark explained. "We also take into account the ongoing tensions within the community which can lead to conflict and are educating people to manage conflict and arrive at a positive conclusion, rather than violence." Some of the most successful reconciliations have occurred at the local level in accordance with traditional "kastom".
Pastor Chief Faneta Sira in Burns Creek, an informal settlement close to the capital where many Malaitans fled during the "Tensions", spoke of how community leaders worked to overcome division and unrest a year ago.
"As a result of church leaders and the chief working among young people, the Burns Creek community has achieved peace today," Sira said. "You can go freely in the day now. You can go without any disturbances or threat or killings, but, before, no."
But at the national level, Patricia Rodi, who assisted with writing the Women's Submission to the TRC, highlighted that "proper reconciliation between the government and people of Guadalcanal and between the peoples of Guadalcanal and Malaita has not yet happened."
Beyond reconciliation, resolving some of the causes of the 'Tensions', such as land ownership, government transparency and need for decentralisation of services and development in the provinces, featured in the women's TRC recommendations.
Rodi, from Guadalcanal, commented that unplanned settlements in areas of unresolved landownership had re-emerged around Honiara.
Sira agreed that land, which is intrinsic to Melanesian culture, identity and livelihoods, was the main issue, but pointed out that there needed to be provision for Malaitans who had already lived on Guadalcanal for three to four generations.
According to Lilo, building a society and system of governance resilient to social change and sources of conflict involves strengthening indigenous forms of leadership.
Mark added: "I'm not saying that our culture is perfect, but looking at the period of ethnic conflict, two institutions stood out very clearly during that time, our traditional leadership and the church, when the political side collapsed."