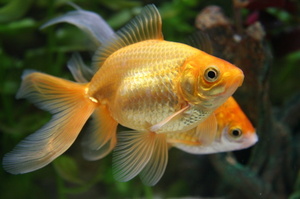 Britain's oldest goldfish Splish and Splash have parted company after more than 35 years together.
The Daily Mail reports Splish has died - found lying lifeless in his tank last weekend - after more than three decades of living with his mate Splash.
The pair were won at a funfair in Cheltenham in 1977 by Richard and Ann Wright for their children Hayley and Matthew.
The children who were six and nine at the time have since left home and are now in their 40s, and the goldfish stayed with their parents.
Splash is now believed to be Britain's oldest living goldfish, but he has a long way to beat the current world record holder - Tish the tiddler, who died in 2005 aged 43.