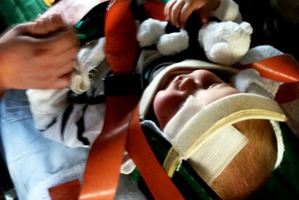 A paramedic in Boston live tweeted her shift in the city - including photos of a 2-year-old boy with head injuries received when he was thrown metres by one of the bomb blasts.
Boston woman and former US Air Force flight medic Cat Cronin was treating hundreds of patients injured at the scene of yesterday's fatal bombings and documenting the experience on Twitter.
One photo was of the 2-year-old boy strapped on to a stretcher wearing a head brace, holding a teddy bear in one hand and gripping his father's thumb with the other.
"My bravest patient today," she wrote. "He was thrown 6ft [1.8m], sustained multiple head injuries. CAT scan will tell the rest. He was amazing! He is 2 years old."
Her only break during the day was to change into a clean uniform as "911 calls just kept coming".
She also tweeted photos of lines of ambulances and army and police personnel.
Her messages were widely re-tweeted, published by international media, and drew criticism and support.
Liz and Will Owens said: "Wouldn't want you to get in trouble; isn't that against the law to take pics of your [patients] and post them?"
She said the boy's father had given his permission, but the image was later deleted from her account.