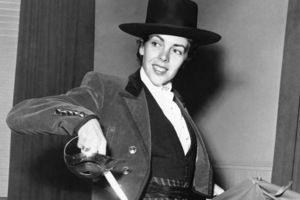 If it can take the horn of a bull to break a glass ceiling then that was surely the singular achievement of Patricia McCormick, a Missouri-born American who in the early 1950s became the world's first professional female bullfighter, drawing legions of fans and the attentions of Time, Sports Illustrated and Look magazines.
McCormick, who died recently in a nursing home in Texas aged 83, first fell in love with the ring during a holiday to Mexico City when she was just 7. Years later, while studying in El Paso, Texas, she regularly crossed the border to Ciudad Juarez, where she trained and found a sponsor.
It was an unlikely quest in a sport so laden with macho traditions but, against her parents' wishes, she persevered and made her debut in Juarez in 1951.
Thus was launched a career as a matadora that spanned 10 years and hundreds of bullfights, most in Mexico and some in Venezuela. The response from male fighters, who never allowed her to take the initiation ceremony that would have made her a fully fledged matadora on equal terms, veered from admiration to condescension.
"She fights larger bulls than does any other woman and she kills well," Carlos Arruza, the Mexican torero, once said of her. "Her only defect is that she is a woman." Rafael Solana, a bullfighting critic, once said she was the "most courageous woman I have ever seen".
The first woman to be given equal billing as the men in Mexican fights and to be allowed to fight, like them, on her feet and not on a horse, McCormick retired and moved to California in the early 60s.
By then, she had been gored six times, most seriously in 1954 in Ciudad Acua when she turned her back on a bull which then charged and skewered her. A priest gave her the last rites.
"The horn went right up my stomach," she told the Los Angeles Times years later. "The bull carried me around the ring for a minute, impaled on his horns."
Two years after her retirement, Sports Illustrated argued that McCormick "may well be the greatest woman bullfighter who ever lived".
But her celebrity faded quickly and she stayed in California for decades, painting water-colours and working as a secretary. In the early 2000s, she moved back to Texas, where some flickers of her old life were rekindled, thanks in part to a 2007 documentary film about her, The Texas Torera.
That she was never fully welcomed into the male ranks of the sport, or allowed to join them in wearing a sparkling suit in the ring, did little to spoil her memories of her years of stardom. "It would have become a vicious circle in the end," she once said.
"For once I became a full-fledged matadora de toros, the recognised matadores would have refused to appear with me. I couldn't win for losing!"
She had, of course, also opened a door for other women to compete. "She was of an era that was very, very difficult for women," Honey Anne Haskin, a retired bullfighter herself also known as Ana de Los Angeles, told the Los Angeles Times.
"There were other women who were very, very good, but the one everyone talked about with respect and admiration was Patricia McCormick."
- Independent