Hollande's popularity hit by disclosure of Budget Minister admitting to secret bank account in Switzerland.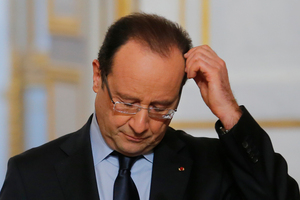 Radicals both right and left are sensing that France's political tide is rising in their favour, driven by a President plumbing record unpopularity less than a year after taking office.
Francois Hollande, a Socialist already under fire for economic mismanagement, is bogged down in a scandal unleashed by his Budget Minister, Jerome Cahuzac.
Svelte and smooth-tongued, Cahuzac had been leading Hollande's campaign to fill the state's coffers by raising taxes, urging citizens to pay their fiscal dues as "solidarity" towards others.
Last week, Cahuzac quit after admitting he had had a secret bank account in Switzerland for decades.
During his pre-political career as a hair-transplant surgeon he had stashed away €600,000 ($922,000), not one centime of which had been declared.
Nothing stokes public anger faster than a flawed moraliser - and a white-hot blast is being directed at the moraliser-in-chief himself.
Hollande is being accused either of knowing about Cahuzac's tax dodging, meaning a cover-up, or of failing to probe Cahuzac's past before appointing him, meaning incompetence.
"The Paris rumour mill [about Cahuzac] had been going full bore for ages" before the scandal broke, said Herve Morin, former Defence Minister under President Nicolas Sarkozy.
"At dinners, a joke used to go the rounds that out of every 10 hairs transplanted by Cahuzac, nine were black," he said, referring to a pun for tax dodging.
Hollande romped to the presidency on May 6 on campaign promises to govern France competently, fairly and cleanly. He declared he would roll back unemployment, meet the EU's targets on borrowing and, after decades of scandals embroiling both left and right, give France an "exemplary" government.
Today, his approval rating stands at only 27 per cent, the lowest of any president in modern French history at such an early point in his tenure.
Unemployment has risen like an express lift, affecting 3.188 million people, or nearly one in nine of the workforce - a tad short of a record set in 1997.
The budget deficit is 4.8 per cent of GDP, compared to Hollande's pledge, since abandoned, to meet the EU's limit of 3 per cent last year.
Public debt rose in 2012 to an astronomical 90.2 per cent of GDP, compared with 85.8 per cent in 2011 - and Hollande's own target of 89.9 per cent.
Dismayed, some voices in the Socialist Party are demanding a reshuffle, with the cabinet cut down and refocused on a dozen ministers.
But true to his reputation for caution, Hollande's response has been to batten down the hatches. "It's one person [Cahuzac] who has failed," he said.
Some critics are also calling for Prime Minister Jean-Marc Ayrault, a former school teacher styled as unable to keep his Cabinet in line, to be given the boot. But face-saving demands that this will probably have to wait until after local elections next March.
Despite its glee at Hollande's problems, the chief conservative party, the UMP, is unlikely to gain much. It has been ripped apart by a leadership battle after the defeated Sarkozy stepped down.
Hopes for a Sarkozy comeback have been tarnished by a probe into allegations the former president ran a slush fund. Both mainstream parties are now trapped in a quagmire of sleaze and scandal, a familiar tale in French politics over the past three decades.
The beneficiaries are radicals who for years have been campaigning with the cry "Tous pourris!" ("They're all rotten!"), charging that the system is populated by a corrupt, self-serving core from the elite schools.
"I see no solution other than for the government to quit and for the National Assembly to be dissolved," said Marine Le Pen, head of the far-right National Front, who picked up 17.9 per cent in last year's elections and is eyeing the May Day rallies for a further boost. "They have to lance the boil by holding new elections."
One-time presidential contender Jean-Luc Melenchon, of the Left Front, who won 11.1 per cent of the vote last year, is staging a demonstration on May 5 to demand nothing less than the scrapping of the Fifth Republic set up by de Gaulle in 1958.
Melenchon is pitching to outraged Socialists who see Cahuzac and another disgraced grandee, Dominique Strauss-Kahn, as signs their party has been hijacked as a career vehicle for the elite.
"This is a world of connivance, bringing together friends of odourless money throughout all the parties in the official system ... and a caste of servants to oligarchs, united by the language of international finance," the Left front said.