A force for change, or simply 'clicktavism', online activist group Avaaz and its leader are being heard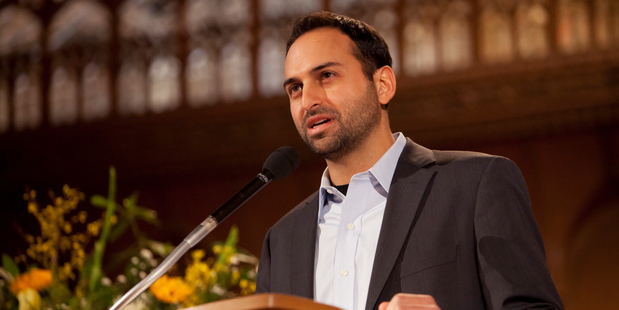 Two weeks ago, a 36-year-old man named Ricken Patel gave the Commonwealth Lecture at the Guildhall in central London. It was entitled The Opportunity of Our Time and promised a "new politics, a new activism, a new democracy".
The vaunting sense of optimism contained in those phrases is typical of Patel, a man who combines Panglossian platitudes with tough political nous to beguiling effect. He is not a politician, however, or some multimillionaire megalomaniac, but the founder and president of Avaaz, an online activist group that aims to "close the gap between the world we have and the world most people everywhere want".
If that mission statement sounds a little fluffy and problematically vague, it's proved remarkably successful around the world. There are now 20 million members of Avaaz, which means "voice" in several languages, making it the world's largest activist network.
Since its creation in 2007, Avaaz has been involved in a series of campaigns as diverse as climate change, the Syrian uprising and challenging Rupert Murdoch.
The organisation specialises in sending email petitions to its members as a means of galvanising public opinion.
There have been notable successes - the group was instrumental in organising a campaign to stop the 2011 Bahrain grand prix following the violent suppression of anti-government protests, and it was the first NGO to get aid to Burma after the cyclone in 2008.
Among the setbacks was the Copenhagen climate change summit in 2009, which Patel has described as "that decade's version of Woodstock or the Spanish Civil War". Avaaz had hoped to deliver binding commitments of a radical nature through an intense online campaign of targeting interested parties, only to find its efforts undermined by a secret deal between the Chinese and American Governments.
Patel's linking of a rock festival and a bloody ideological struggle is telling because Avaaz simultaneously trades on a kind of fuzzy generational dissent and a very specific brand of political idealism, a combination that Patel effortlessly embodies. As such, he has been voted "ultimate gamechanger in politics" by the Huffington Post, listed among Foreign Policy magazine's top global thinkers last year and named a young global leader by the Davos World Economic Forum.
A black belt in karate, he was also named among People magazine's hottest "superhero" bachelors.
Patel recognises the irony of an advocate of mass democracy being singled out as a celebrity by the rich and powerful.
"Just the idea of being invited to dinners and parties and getting special treatment is a danger for our model," he says. "I always have to remember my boss is our membership."
Avaaz's model is online mobilisation, which has been dismissed in some quarters as "clicktavism", whereby hundreds of thousands or even millions of people need do no more that tap a mouse to register their protest. The suggestion is that the technological ease creates a remote, disengaged form of activism in which consequences and outcomes appear less real.
Patel has a stock response to this criticism. "To reduce our actions down to clicking is silly," he has said. "It's what happens after the clicks - how we use that support - that's what brings about incredible change." Patel believes that technology has merely given voice to a global hunger for greater democracy. His vision is of a groundswell of liberal-minded thinkers doing battle around the world with the guardians of the old repressive approach.
"I think that across the world there is a politics of community and connection in tension with a politics of fear and division," he says.
"The former takes us to a more deliberative politics in which we engage with each other in a conversation about the common good and democracy is less like a boxing ring with one person left standing and more like a dinner table where you have the conversation about what to do together."
Patel can sound simultaneously inspiring and ingenuous, as though his idealism has had precious little interaction with the real world. But he is no stranger to hard reality, having worked in conflict resolution in Sierra Leone, Liberia, Sudan and Afghanistan.
"If there were ever places in the world that were going to make someone cynical," he says, "it's those. And I came out of that experience seeing the tremendous change that is possible when you free yourself from cynicism and work practically for the values we all share. I really feel like I'm the one being realistic and clear-eyed here."
Patel owes his interest in global politics to an older brother who told him about the Cold War when he was just 3 years old. He became interested in history and what he calls the "human journey" and, encouraged by his mother, he began dreaming of an Avaaz-style organisation from an early age.
His mother is English with Jewish roots and his father a Kenyan Indian, and the family lived in Edmonton in Canada.
Gaining a first in Philosophy, Politics and Economics (PPE) at Oxford, he took a masters in public policy at Harvard. Following his stints in conflict zones, he moved back to the US.
During his 20s, he underwent a crisis of intention in which he wondered if his altruism was ego-driven. "I asked myself, 'Am I doing these things because of some sophisticated way in which they benefit me or am I genuinely public-spirited?"' The answer, he decided, was circular. If he believed in himself, he believed in other people and thus in the ability to change the world.
Remotivated, he studied the workings of MoveOn.org, the American online campaigning group, and set about creating Avaaz with initial investment from several foundations.
Now the organisation works in 15 languages, has its headquarters in Manhattan, is most popular in Brazil, France, Germany and India, and is entirely financed through its members. But it's not all been bright ideals and shiny computers. Last year, Avaaz came under the spotlight for its claims about its role in helping to free journalists who survived the blast that killed the London-based Sunday Times reporter Marie Colvin in Homs. After Colvin's photographer, Paul Conroy, turned up in Beirut, Avaaz put out a press release stating that it had co-ordinated Conroy's escape and 13 of its activists on the ground had been killed carrying out the plan.
Conroy was later quoted saying that Avaaz's claims were "bollocks" and the movement came under criticism. "Has Avaaz been lying about its role in Syria?" asked the New Republic. The organisation later withdrew its initial press release, but maintained that it had played a key role in developing the escape plan, even if it was taken over by fighters from the Free Syrian Army.
"It's the fog of war," Patel says now. "People don't know what's going on. We put out a press release in the middle of the night that was mistaken. But we were directly involved and Paul later apologised for what he had said."
Inevitably, there were suggestions than an internet campaign had got too far out of its depth, that it should avoid battlefields and stick with websites. But Patel is unapologetic. "I think that we are, overall, extremely proud of our work in Syria."
Although he condemns the brutal tactics of the Assad regime, he's not sure how the international community ought to respond. He says that, when polled, his membership was unable to reach any conclusive decision about what action should be taken.
There is no shame in being uncertain of the appropriate course of action in what has become a regional proxy war, although sceptics will argue that it demonstrates the limits of the wisdom of crowds. Perhaps the process is better suited to mustering large support for issues such as climate change, rather than coming up with strategies for complex situations in which people are dying in their thousands.
But even if that's the case, Avaaz still provides an impressive infusion of feedback into the global system. Best of all, it offers a contemporary solution to political apathy.
"The truth is," says Patel, "there is enormous basis for optimism and hope and belief in ourselves today. Practical idealism is just good sense."

The Patel file
Born: Ricken Patel on January 8, 1997, in Edmonton, Canada, to a Kenyan-born Indian father and an English mother. He was educated, in part, on a Native American reservation. He studied politics, philosophy and economics at Oxford University.
Best of times: Setting up an email alert for Buddhist monks to buy food and medicine when the Burmese Government was blocking all aid after the 2008 cyclone. Reaching 20 million members this year.
Worst of times: The failure to gain the deal Avaaz had campaigned for at the 2009 Copenhagen climate change summit. The fallout from the organised escape of journalists from Homs last year that left a number of Syrians dead amid claims that Avaaz had overstated its involvement in the plan.
He says: "There are two types of fatalism - the belief the world can't change, and the belief you can't play a role in changing it."
They say: "In harnessing the internet as a force for global change, Patel has disproved the notion that such ventures are mere 'clicktavism' and has pioneered a new model for advancing human rights and democracy." The Foreign Policy 100 Top global thinkers.

- Observer