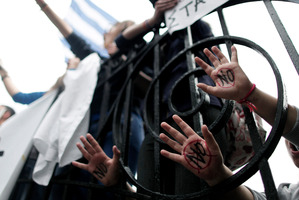 Anger at a deal aimed at saving Cyprus from bankruptcy spilled into the streets yesterday with thousands of students and finance workers demanding answers after the Government said banks would remain shut for two more days and details of strict capital control measures emerged.
The central bank Governor, Panicos Demetriades, stressed that "superhuman" efforts were being made to open Cypriot banks today as he sought to quell fears that the nation's largest lender, the Bank of Cyprus, was about to be shut down.
Its chairman offered to quit yesterday and hundreds of its employees marched to the central bank building to protest against potential job losses.
The chairman's offer was later rejected by the bank's board.
"We are scared," one employee who gave her name as Anthoulla told Reuters news agency.
"We were also so proud of the Bank of Cyprus. We worked with a lot of love, not just for the money." About 3000 secondary school students also protested outside Parliament in Nicosia.
In the deal hammered out in Brussels on Monday, people with over €100,000 ($153,315) in the two biggest banks will have their deposits frozen. Those with under €100,000 in the second biggest bank, Laiki, would have their money transferred into the Bank of Cyprus, with Laiki eventually shut.
These and other measures are expected to raise the €5.8 billion that Cyprus needs to qualify for the €10 billion bailout from the IMF and European Central Bank (ECB).
Demetriades tried to reassure people worried about the future of the largest bank, saying that the merger of the Laiki and the Bank of Cyprus "will give us a very strong bank".
Earlier in the day Cypriot Finance Minister Michael Sarris confirmed that those with uninsured deposits above €100,000 in Laiki bank could lose 40 per cent of their savings. But how long it will be before they can access the remainder of their money remains unclear.
The banks were meant to reopen yesterday, but the Government announced on Tuesday that they would remain closed until tomorrow as they tried to work out what capital control measures were needed to prevent the exodus of cash from the country. The BBC reported that the measures being considered included a weekly withdrawal limit at cash machines, a ban on cashing cheques, and the requirement that fixed-term deposits must be held until maturity.
- Independent