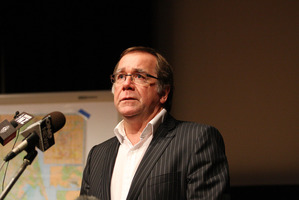 A summit aimed at raising funding for renewable energy projects in the Pacific has raised $635 million, including $65 million in aid from New Zealand, Foreign Minister Murray McCully says.
Investment banks, aid donor countries and energy sector groups met Pacific Island leaders over the past two days in Auckland - a meeting co-hosted by New Zealand and the European Union to try to inject momentum into attempts to increase the use of renewable energy sources such as solar and wind on the island nations.
Mr McCully said those countries presented 79 projects they needed funding for and in return donors and investors gave $255 million in grants and $380 million in concessional loans for about 40 of those projects.
Of that, $65 million was in New Zealand aid for projects in countries including Cook Islands, Kiribati, Papua New Guinea, Samoa, Tonga and Tuvalu.
The aim is for Pacific countries to get half their energy from renewable sources, rather than relying on costly imported diesel for up to 95 per cent of it.
Major contributors included the European Union, New Zealand, Australia and the United Arab Emirates, as well as the Japan International Cooperation Agency, European Investment Bank and World Bank Group.