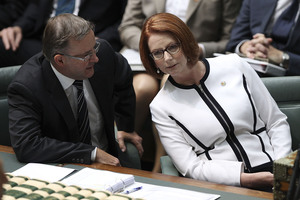 Julia Gillard has elevated two key supporters to the Cabinet, expanded the jobs of three frontbenchers and made four new ministers after a "self-indulgent" leadership dispute.
The Prime Minister apologised for the debacle - in which Kevin Rudd was urged on Thursday by senior ministers to challenge her but declined at the last minute - describing it as "appalling".
"My political party, the Labor party that I love dearly, was self-indulgent. Our eyes were on ourselves rather than ... being focused on the nation," she said yesterday. "It was an unseemly display, but out of that has come clarity."
Labor has been marked down over its disunity, with the Government's primary vote dropping two points to 33 per cent in the latest Essential poll.
The two biggest winners of the reshuffle were new Cabinet ministers Gary Gray, who takes on the mining and energy portfolio, and Jason Clare, who becomes a full member of Cabinet and remains Justice and Home Affairs Minister.
Despite criticism of his previous support for Rudd to return as prime minister, Anthony Albanese's transport portfolio was expanded to take on regional development and local government - vacated by Simon Crean who was sacked over his aborted campaign for Rudd's return.
Gillard consulted key independent MPs over Albanese's extra jobs and said she was "comfortable" with him remaining in Cabinet.
Craig Emerson, a staunch supporter of Gillard, adds tertiary education, skills, science and research to his job as Trade Minister. And Climate Change, Industry and Innovation Minister Greg Combet's department will merge with the Climate Change Department, a move which the Greens says is a step backwards.
Four new ministers have been appointed: Catherine King (Regional Services), Don Farrell (Science), Sharon Bird (Higher Education) and Jan McLucas (Human Services).
Opposition Leader Tony Abbott says Gillard will be working with an "L-plate Cabinet" in the lead-up to the federal budget in 50 days' time.
"This is quite a challenge for the Government, given that the budget will be prepared with some of Labor's most respected and most competent members on the back bench rather than on the front bench," he said.
Abbott noted the new ministry would include the sixth Small Business Minister in less than three years. More than half Labor's 102-member caucus are or have been parliamentary secretaries or ministers since Labor was elected in 2007.