Critics challenge new law in court.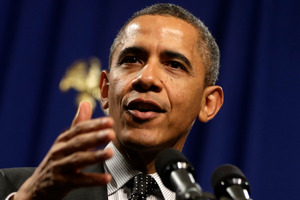 United States President Barack Obama is facing a liberal backlash over his hardline national security policy, which critics say is more extreme and conservative than that pursued by George W. Bush.
Obama's nominee to be the next head of the CIA, White House adviser John Brennan, was grilled by the Senate intelligence committee over using drones to kill suspected Islamic militants amid a row over documents that lay out the legal rationale.
"The parallels to the Bush Administration torture memos are chilling," said Vincent Warren, executive director for the Centre for Constitutional Rights. "Those were unchecked legal justifications drawn up to justify torture; these are unchecked justifications drawn up to justify extrajudicial killing."
At a court hearing in New York liberal activists and journalists argued that a new Obama law - the National Defence Authorisation Act - has dealt a serious blow to civil liberties by allowing American citizens to be detained indefinitely without trial.
"If Bush had done the same things as Obama, then more people would have been upset about it," said Daniel Ellsberg, who as a government official leaked the Pentagon Papers in 1971. Ellsberg is a plaintiff in the case against the NDAA and insists that the Administration has used the law to give itself widespread and unconstitutional new powers.
The Government denies the act represents any sort of threat to ordinary citizens and has appealed against a judge's ruling that it is unconstitutional, saying that the White House needs such powers to fight terrorism. Critics say its use of broad language to define what constitutes a terrorist or what actions make up support for terrorist groups could drag in journalists, activists and academics.
Another source of anti-Obama anger for liberal groups has been the Administration's attitude to whistleblowers. Obama has used the 1917 Espionage Act six times to pursue cases. One case involved former CIA agent John Kiriakou, who was prosecuted for leaks after he went public with allegations of torture of suspects. He has now been jailed.
Thomas Drake, a National Security Agency worker, was prosecuted after leaking details of waste and overspending. The case against him collapsed in 2011. He says that first Bush and then Obama had used secret powers to carry out national security policy since 2001. "Everything that has happened since 9/11 has simply increased the power of that secret government. "Observer