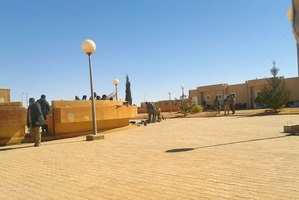 A New Zealander was evacuated from Algeria amid a four-day battle which resulted in the deaths of at least 37 hostages, the Ministry of Foreign Affairs and Trade says.
The New Zealand man was based on a BP oil rig about 7km from where militants stormed a remote natural gas complex in the Sahara desert on January 16.
He was not directly caught up in the fighting but was evacuated on a British charter flight to London on Saturday night, MFAT said today.
The New Zealand High Commission in London had been in touch with the man to confirm his well-being.
The four-day confrontation began when al-Qaida-affiliated militants stormed the complex and took hostages.
It was punctuated by exploding cars, attacks from helicopters and a final assault by Algerian special forces, the Associated Press reported.
In all, 37 hostages, including an Algerian security guard, and 29 militants were killed, but five other foreign workers remain unaccounted for.
- APNZ