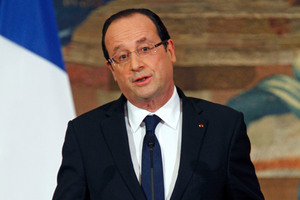 By dispatching warplanes, helicopters and special forces to Mali, French President Francois Hollande engineered a dramatic image makeover but, as a bloody hostage saga in Algeria has shown, left himself badly exposed to terrorist retaliation.
A week ago, Hollande's reputation for softness was such that his nickname was "Flanby," after a squishy caramel pudding that first has to be turned upside down before it plops onto your plate.
With approval ratings of just 39 per cent, the lowest of any modern French president after just eight months in office, he struggled with an image for flip-flops on the economy, a messy private life and fumbled handling of a plan to legalise gay marriage.
But Hollande's domestic woes were instantly forgotten after he announced on live TV that France had launched strikes to halt an Islamist takeover of the West African state of Mali, its former colony.
In public-relations terms, the balding myopic 58-year-old muscled up quicker than Popeye swallowing a tin of spinach. He struck the presidential tone that until then had eluded him, as friends and enemies rallied around the tricolore.
Washington and France's allies across Europe loudly voiced their support. Britain, Belgium, Denmark, Germany and Italy said they would make military contributions to the effort, and other countries, at an emergency meeting of European ministers in Brussels, pledged financial support for an African intervention force.
Applause has come from his fractious Socialists and the conservative Opposition, critics on the far right and left have been silenced.
"The resolve that [Hollande] has shown by unleashing military operations should be saluted," said the right-wing daily Le Figaro. "It shows that our country will not yield in the face of Islamist blackmail and will not abandon its allies in the face of external aggression."
Hollande "had no other choice ... given the risk of seeing a terrorist state become established in West Africa," said Francois Bayrou, head of the centrist MoDem Party.
In an opinion poll published by the survey group BVA on Thursday, 75 per cent of adults said they backed Hollande's decision. This compares with 66 per cent who supported France's role in the attacks on Libya in March 2011, an operation launched by his predecessor, Nicolas Sarkozy.
"Mali could be a turning point in his (Hollande's) tenure," said Frederic Dabi of the Ifop polling institute. "Until now, every decision he took was routinely attacked or criticised by the Opposition, but that is not an option in this scenario because national unity is required."
That unity is already facing a major test, in the risk of terrorist reprisals against the 30,000 French expatriates living in neighbouring, mostly Muslim states.
On Thursday, Islamists assailants took Western and Japanese nationals hostage in an attack on a gas installation in Algeria, in an action that resulted in a bloodbath when Algerian forces tried to release them. Eight other French nationals are long-term hostages of al-Qaeda allies in the Sahara. "There are consequences, not only for French hostages, but also for all French citizens wherever they are in the Muslim world," the Malian insurgent group Ansar Dine had warned a day after Hollande made his announcement.
A bigger risk still for Hollande is an attack on French soil. In 1986, 10 people were killed in a bombing campaign linked to Iran that targeted department stores, government buildings and restaurants in Paris, as well as the Eiffel Tower. With the city traumatised, the Government reportedly cut a deal with Tehran and the attacks abruptly stopped. And in 1995, eight were killed in a wave of bombings of the Paris Metro. Algeria's Armed Islamic Group (GIA), from which AQIM traces some of its lineage, was blamed.
In Mali, the risk is that the operation could last longer than Hollande has billed. In essence, he says France will hold the line until a West African force arrives and Malian troops, trained by the EU, can deploy.
The insurgents could prove a tough nut to crack and as the French military extends its engagements on the ground so the risk of fatalities increases. Defence experts say the militants are battle-hardened, fortified by an influx of Libyan weapons and at ease in desert terrain, compared to poorly-equipped West African adversaries used to operating in the jungle or savannah.
"For the time being, there is majority support for the operation in Mali, but it could swiftly go the other way if France gets bogged down," said analyst Jerome Fourquet. "Air strikes are the simple bit. The toughest part is stabilising the front and hunting down the jihadists."