Holidaymakers and Tasmanian locals flee by boat as ferocious blaze destroys more than 100 properties.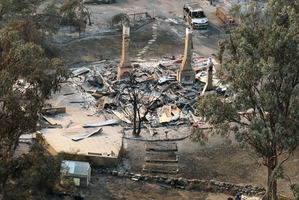 Emergency teams searched burned-out buildings and cars in Tasmania yesterday as police warned that a number of people might have died in the ferocious bushfire that destroyed more than 100 properties in the island's southeast.
The state's acting police commissioner, Scott Tilyard, said a small number of people were unaccounted for after the fire that ravaged parts of the Tasman Peninsula and forced the evacuation of more than 1000 locals and holidaymakers by boat.
"I am fearful that someone may have died in the fire," he said.
"I think people should brace themselves for the fact it could occur."
As emergency teams moved through Dunalley and other affected towns, examining fire-damaged properties, up to 2000 people remained marooned on the peninsula, southeast of Hobart.
Police were hoping to reopen the Arthur Highway, the only road in and out, yesterday, but said it could be several days before residents evacuated on Friday and Saturday could return to check their homes.
More than a dozen fires - including the huge blaze at Forcett that caused the most destruction - were still burning out of control across Tasmania yesterday. However, emergency warning alerts had been lifted, with "watch and act" alerts - the second-highest level - still in place for the Forcett fire and one at Lake Repulse, north of Hobart.
In Dunalley, a picturesque fishing town where 65 properties including the school, police station and bakery were destroyed, residents told how they were forced to dive into a canal to escape the flames on Friday.
Others watched as fire consumed their homes.
Tony Young was standing in his shed when the ceiling ignited and fire began to spread to his house.
"The trees just went off. They were like firecrackers - 20, 30 feet high," he told the ABC. "All I could do was drive the car out of the shed, drive across the other side of the road and stand back and look at the whole place just being engulfed in flames, just like a movie."
A clutch of neighbouring hamlets - including Murdunna, where 20 homes were lost, and Boomer Bay, where 15 properties were burned down - were also devastated by Australia's worst bushfires since the Black Saturday disaster in Victoria in 2009. Further north, more than a dozen properties were destroyed by a fire south of the holiday town of Bicheno.
The Tasman Peninsula, where those who were not evacuated spent their second night in emergency shelters, including one at the convict ruins of Port Arthur, remained without power yesterday.
With the south of the island still blanketed by a thick haze, the Federal Government pledged disaster relief payments of A$1000 ($1259) for every adult affected. The Prime Minister, Julia Gillard, said she was planning to visited fire-ravaged areas.
The Queen sent a message of support to Tasmanians, expressing "deep concern for all those who have been affected".
The fires are the worst to strike Tasmania since 1967, when 62 people died and 2000 homes were destroyed.