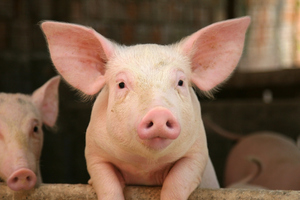 The creator of hit TV drama Homeland has condemned Britain's Ministry of Defence for running a "crude animal laboratory" in which live pigs are shot with high-powered rifles so army medics can practise surgery on them.
Gideon Raff, the former Israeli Defence Force paratrooper who wrote and directed the Israeli original of the award-winning American drama, has written to Defence Secretary Philip Hammond to express his outrage at the scheme, in which British military medics practise emergency surgery on pigs shot at a Nato training camp in Denmark.
Formerly known as "Operation Danish Bacon", the practice was condemned last month by the animal rights group Peta, who called it "impossible to justify medically, ethically or educationally".
The MoD claims the scheme provides "invaluable experience" and has helped save soldiers' lives.
During the training at Nato's Jaegerspris base near Copenhagen, pigs are drugged and then shot by marksmen in specific areas of their body.
Surgeons must then try to save their lives.
"I am concerned that this violence still goes on when more humane and effective ways of training medics and doctors are available," Raff told Hammond.
He said recent Israeli research "found that military staff's confidence in performing lifesaving battlefield medical procedures increased when they were trained with sophisticated human simulators and after having experience with real patients - but not after completing crude animal laboratories".
- Independent