Critics cite judge's account of prison ordeal as further proof of Chavez regime's abuses Nikhil Kumar.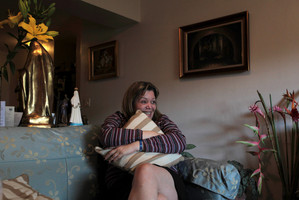 Hugo Chavez's treatment of his opponents will come under renewed scrutiny this week at the trial of a judge who was arrested for handing down a ruling that angered the Venezuelan leader, and was then allegedly raped while behind bars.
Maria Lourdes Afiuni's case has become a rallying point for human rights campaigners who accuse President Chavez's Government of abuses. Noam Chomsky, the American political activist often cited by the veteran Socialist leader as a source of inspiration, is among those who have called for Afiuni, 49, to be freed.
The saga began in 2009 when the judge granted bail to a banker facing trial on charges of subverting the nation's currency controls. Angered by the move, the Government had her arrested. Chavez ranted on national television that she should face 30 years in prison for making the ruling. The President, re-elected in October to a fourth, six-year term, also called the judge a bandit.
Afiuni, who has been in pre-trial detention for nearly three years, latterly under house arrest, has repeatedly protested her innocence and refuses to co-operate with pro-secutors or appear in court.
A new criminal code, which allows for defendants to be prosecuted in absentia, could allow her trial to begin as early as today.
A book published last week claimed that, in addition to being wrongly imprisoned, Afiuni was raped in a women's jail near the capital, Caracas, in 2010 and then had an abortion. The account was confirmed by her lawyer, who claimed Chavez was informed of the rape but took no action.
Neither the President personally, nor the Government, did anything, Jos Amalio Graterol told The New York Times. The mistreatment of Afiuni continued. He said she was cut with blades and burned with cigarette butts. The rape was not made public earlier for fear that doing so would be psychologically harmful to Afiuni, he said, adding that the decision to reveal it now was an act of courage.
Another of Afiuni's lawyers, Thelma Fernandez, demanded an investigation to identify those responsible for the rape. She reiterated that the Government was informed about the incident, and details were conveyed to the UN, the Associated Press reported.
Officials in Caracas have denied the claims in The Commandante's Prisoner by Francisco Olivares, a Venezuelan journalist who worked with Afiuni's co-operation.
Isabel Gonzalez, a former director of the prison where the judge was held, has called for an inquiry into the claims, which she denies. She also plans to sue for libel.
As the Afiuni case comes to trial, opposition politicians are compiling a list of prisoners they believe have been wrongly detained, and of exiles they say should be allowed to return home. Congressman Edgar Zambrano last week said the list ran to 22 prisoners and 87 exiles.
Chavez meanwhile announced plans to travel to Cuba next week for more medical treatment after spending much of the past 18 months fighting cancer.
In a written request to the legislature, Chavez said doctors have recommended he "begin special treatment consisting of various sessions of hyperbaric oxygenation" and physical therapy to continue "consolidating the process of strengthening health".
The 58-year-old President first underwent cancer treatment in Cuba in June 2011 and suffered a relapse in February. He has since said he's recovered from the pelvic cancer and won re-election in October.
He is due to be sworn in for a fourth term on January 10.
In and out patient
Chavez's medical condition:
* June 30, 2011: Appears on TV in Cuba to confirm he has had a cancerous tumour removed.
* Sept 23, 2011: Says he completed chemotherapy and calls the treatment successful.
* Feb 21, 2012: Says doctors found new lesion in same place tumour was removed, and announces plans to return to Cuba.
* Feb 26, 2012: Undergoes operation that removes tumour from same location in his pelvic region.
* July 9, 2012: Says tests showed he is "totally free" of cancer.
* Oct 7, 2012: Wins another six-year term, beating challenger Henrique Capriles.
* Nov 27, 2012: Announces plans to travel to Cuba for more medical treatment.

- Independent, AP