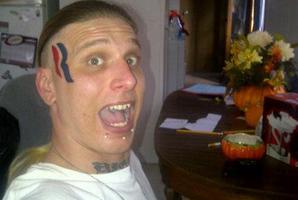 Backing a losing political candidate can be hard enough, but one Mitt Romney supporter has a permanent reminder of the Republican's failed presidential bid.
Eric Hartsburg, of Indiana, has made headlines for getting the Romney campaign logo tattooed on his face.
Despite Romney's loss in last week's election, Hartsburg doesn't regret the 12.7 x 5cm tattoo.
"I'm a tattoo guy, and it was something fun," the 30-year-old told politico.com.
"I was trying to make politics fun. I didn't change no lives; I'm no hero. But I shed blood for this campaign, and I'm glad to know that I did all that I could."
Apparently the professional wrestler did not tell his wife, who is also a Romney supporter, until an hour before he got it done.
"Right away, she was taken aback," he said. "My 15-year-old son, however, he was all about it."
Hatsburg was gutted by Romney's defeat to incumbent President Obama.
"I'm the guy who has egg all over his face, but instead of egg, it's a big Romney/Ryan tattoo. It's there for life."
The Republican was hopeful the tattoo would become relevant again in four years' time.
"No, I won't be removing or covering up the "R" masterpiece embedded in my mug,"
Hatsburg told nzherald.co.nz. "As for any more political tats with any hope Marco Rubio will run in 2016 and my big R will remain pertinent."
He told Politico said the Republican Party needed to reform in order to appeal more to young voters.
Hatsburg hopes the tattoo will open doors in the entertainment business.
- www.nzherald.co.nz