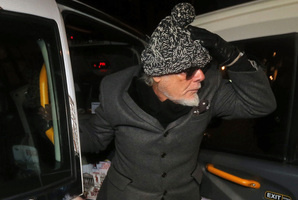 Twenty BBC staff are facing internal allegations of sexual misconduct since the Jimmy Savile revelations, the corporation said yesterday.
The BBC, Savile's estate and five other institutions, including Stoke Mandeville hospital, have also been informed that they face legal action from 43 victims seeking damages for alleged sexual abuse.
The claimants include a woman who was 8 years old when Savile molested her, she says, at Stoke Mandeville. Slater & Gordon, which is acting for 36 people who were aged from 8 to 23 when they were abused, has sent letters before action to the BBC, Leeds General Infirmary, Stoke Mandeville and Broadmoor hospitals, and the executors of Savile's estate.
Another law firm, Pannone, is acting on behalf of seven potential victims. One claim has been made against the BBC. Mark Thompson, the former director-general, who was told about Newsnight journalists' concerns over the scrapping of the Savile expose last year, faced further questions about his response.
It is understood that the BBC is now investigating 20 members of staff. George Entwistle, the new director-general, told MPs last month that between eight and 10 former and current staff and contributors were suspected.
- Independent