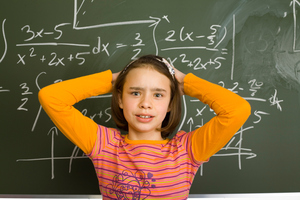 Being confronted with maths can cause some people physical pain, researchers have found.
Researchers at the University of Chicago say fear of maths can activate regions of the brain linked with the experience of physical pain and visceral threat detection.
Ian Lyons and Sian Beilock found 28 people - half with high maths anxiety and half with low maths anxiety - and looked at what happened to the brain when they were confronted with a mathematical problem.
The participants completed a word task and a math task while their neural activity was measured functional magnetic resonance imaging (fMRI).
The researchers found that in individuals who experience high levels of anxiety when facing maths tasks, the anticipation of maths increases activity in regions of the brain associated with the physical sensation of pain.
The higher an individual's math anxiety, the more such neural activity was increased.
"We provide the first neural evidence indicating the nature of the subjective experience of math-anxiety," the researchers said.
The study, When Math Hurts: Math Anxiety Predicts Pain Network Activation in Anticipation of Doing Math, has been published in the online open access journal PLOS ONE.
Previous research has shown that other forms of psychological stress, such as social rejection or a traumatic break-up, can also elicit feelings of physical pain. However, the current study examines the pain response associated with anticipating an anxiety-provoking event, rather than the pain associated with a stressful event itself.
"It grounds the phenomenon in the evolutionarily ancient pain system that we often rely on when we are physically harmed," Beilock told CNN.
Beilock said maths anxiety or a lack of maths skills is socially acceptable, compared to other areas of study.
"You don't walk around bragging that you can't read, but people often talk about how they're not number people or they hate math," she told CNN.
Beilock was interested in finding the source of the anxiety so students could be helped to perform better in the area, as people do better at maths when they do not fear it.