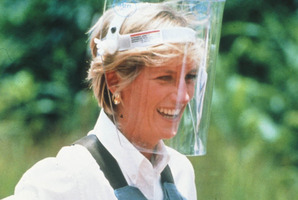 After years of steady decline in the number of casualties, the number harmed by landmines is on the rise again.
In 2010-11 at least 4191 people were maimed or killed by landmines, the first increase in the annual toll for seven years. Of these, at least 1155 died of their injuries. This year is expected to be even worse.
The events of the Arab Spring have contributed to this, with Syria, Libya and Yemen all laying new mines.
Last year the confirmed use of mines by state forces reached its highest level since 2004.
In Libya alone, there were 184 casualties from mines or explosive remnants of war (ERW), up from just one in 2010.
This year Syrian forces have been placing landmines near the borders with Lebanon and Turkey, and civilian casualties have already been reported to Human Rights Watch.
There is evidence that fresh mines have also been laid in Yemen.
Even in places such as Angola, where landmines have been in the ground for decades - and whose minefields looked destined to be cleared after campaigner Diana, Princess of Wales, visited in 1997 - casualties has risen, with 89 people harmed or killed by mines last year, double the number in 2010.
Two years ago the British Government abandoned the funding of de-mining projects in Angola, Colombia, Somalia, Sri Lanka and Afghanistan.
Guy Willoughby, the head of Halo, the charity supported by Princess Diana, said: "There is donor fatigue. Princess Diana would be dismayed to think that almost 16 years after her visit I would be standing up and saying Angola needs another 10 to 15 years' clearance, and possibly longer if there's any further donor fatigue. The clearance time is dependent on the number of de-miners you can hire."
Global dignitaries will gather in New York on Saturday to celebrate 20 years since campaigners formed the International Campaign to Ban Landmines (ICBL). Eighty per cent of the world - 160 countries - has now joined the Mine Ban Treaty, which won the ICBL the Nobel Peace Prize in 1997.
When the group first met in 1992, 20,000 people were being hurt or killed by landmines every year. Now the number is less than a quarter of that, but experts are concerned that governments have got complacent.
Nick Roseveare, the chief executive of the Mines Advisory Group (MAG), said: "Sadly, last year was the first year where more landmines were being laid on a dramatic scale."
Despite the stigma created by a worldwide treaty, landmines are still mass-produced - primarily in Russia, China, Pakistan and Iran. There are still about 110 million landmines in the ground today, according to estimates - hidden killers that would cost some £18 billion ($35.5 billion) to remove.
Roseveare fears that political support to tackle the problem may be waning: "There has to be a continued, dramatic increase in support by rich countries to solve this problem and fulfil the commitments of the treaty.
"It's 15 years since Princess Diana walked in the minefields of Angola and there's still a huge problem."

Landmine timeline
Sep 1991 Human Rights Watch calls for ban on landmines.
Oct 1992 International Campaign to Ban Landmines (ICBL) formed. It is awarded Nobel Peace Prize in 1997.
Mar 1995 Belgium becomes first country to pass law banning manufacture and sale of landmines.
1996 Canada, Germany, Denmark, Austria and Sweden adopt ban on anti-personnel mines.
Jan 1997 Princess Diana calls for international ban on landmines.
Dec 1997 122 nations sign Mine Ban Treaty in Ottawa, Canada.
Aug 1998 Britain bans use of landmines by the military.
Dec 2001 One million mines placed along India-Pakistan border.
2010 660 sq km of land cleared, destroying over a million mines.
Mar 2012 Human Rights Watch reports Syria laying mines along borders with Lebanon and Turkey.
Oct 2012 20th anniversary of the ICBL.

- Independent