Che Guevara's daughter, Aleida Guevara, says 'sometimes people know what he stands for, sometimes not'.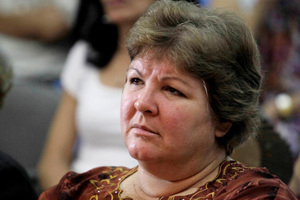 She has the eyes of her father, a gaze that became an emblem for the 20th century. She also shares his sense of social injustice, but Dr Aleida Guevara has always had to share her "papi" with the world.
While she doesn't mind the posters, flags, graffiti and T-shirts, Guevara and her family are trying to clamp down on "disrespectful" uses of her father's famous photo, taken by Alberto Korda in 1960. Not easy when it is the most reproduced image in the world.
"It's not so easy, we do not want to control the image or make money from it, but it is hard when it's exploited," Guevara smiles. "Sometimes people know what he stands for, sometimes not. Mostly I think it is used well, as a symbol for resistance, against repression."
Che on a bikini they couldn't stop, but Che, a teetotaller, on a vodka bottle was a battle won with the help of the UK Cuba Solidarity Campaign.
Next month marks the 45th anniversary of the killing of Ernesto "Che" Guevara, the guerilla who helped lead the Cuban revolution and became an icon of rebellion. This year is also the 50th anniversary of the US "blockade", the trade and travel embargo which has stifled Cuba's economy.
An underdeveloped country offering world-class education and healthcare for all, Cuba maintains anti-dissident policies, imprisoning journalists and anti-government activists. Despite a mass prison release of dissidents in 2011, Cuban authorities, says Amnesty International, "do not tolerate any criticism of state policies outside the official mechanisms established under government control".
Guevara is in Britain for another anniversary, the 14th year since the Miami Five - spies entrusted with infiltrating anti-Castro terrorist groups operating from Florida - were jailed by the US. The 51-year-old Havana paediatrician will lead a vigil in London outside the US embassy next week. "I'm not political," she insists, "but I care about injustice."
Aleida was 7 when Che was executed in Bolivia by a group of Bolivian soldiers and CIA operatives.
Che was a medical student in Argentina when, on a motorcycle tour around Latin America in 1952, he became incensed by the poverty he saw. He took up political theorising and then arms, joining the revolution that overthrew Cuba's Batista regime.
It was then, as the middle class and wealthy fled Cuba for Miami, that a bitter chasm opened between the two nations. The promise of President Barack Obama to tackle the issue has come to nothing so far. "We had great hopes, but we are disappointed in Obama, maybe things have even got worse for us," Guevara says.
"This economic crisis is even more dangerous than any before for Latin America. It's not only about oil now, the US want water too. Brazil is destroying its rainforest to mine out iron, Mexico is a dumping ground for unwanted waste, this time the land is being destroyed as well."
Cuba: Island in the sun
Population: 11 million
Language: Spanish
Life expectancy: 77.87 years
History: Cuba gained independence from the United States in 1902. The island experienced a string of governments mostly dominated by the military and corrupt politicians. Fidel Castro led a rebel army to victory in 1959 and held a regime together for nearly five decades. He stepped down as president in February 2008 in favour of his younger brother Raul.
Geography: Caribbean island 150km south of Florida.
Economy: US$114.1 billion GDP
The country faced a severe economic downturn in 1990 following the withdrawal of Soviet subsidies worth US$4 billion to US$6 billion annually. A US embargo has been in place since 1961. The Government has expanded opportunities for self-employment. Since 2000, Venezuela has been providing oil on good terms.
Flight to the US: Illicit migration to the US is a continuing problem. The US Coast Guard intercepted some 1000 people trying to cross the Straits of Florida last year. - Cia Factbook
- Observer