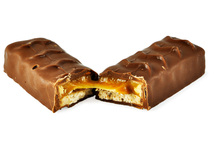 The maker of Mars bars has asked a Scottish takeaway to publish a disclaimer on its menu distancing the company from its deep-fried version of the snack.
The Carron Fish Bar, which counts the $2.50 fried treat as one of its biggest attractions, selling up to 150 a week, has been told the "recipe" contradicts Mars' commitment to healthy eating - a move signalled in 2010 when it cut the saturated fat content of the bar by 15 per cent, reducing it to 260 calories.
"Deep frying our Mars bar product, of course, counters this significantly," the firm said.
The Carron Fish Bar's owner, Lorraine Watson, said she was shocked at the move, which followed her inquiries about registering the deep-fried Mars bar under the EU's Protected Food Name Scheme.
- Independent