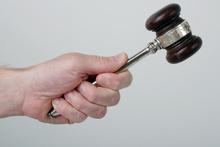 A doctor jailed for sexually assaulting a 19-year-old woman while examining her at Royal Perth Hospital has lost a bid to appeal against his conviction, and has spoiled his chances for an early release.
Suhail Ahmad Khan Durani was sentenced to 28 months in jail in July 2011, after he was found guilty on three counts of indecently assaulting the patient by grabbing her breasts and two counts of digitally penetrating her without consent.
The offences occurred at the hospital on February 20, 2011, when the diabetic woman was admitted with high blood sugar levels.
Durani, 35, has maintained his innocence and sought leave to appeal on seven grounds, including that his defence lawyer had acted "incompetently" and that new evidence in the form of good character witnesses should be considered.
On Thursday, West Australian Appeal Court judges Carmel McLure, Michael Buss and Robert Mazza dismissed Durani's application, refusing six of the seven grounds.
One ground was upheld - that trial Judge Allan Fenbury failed to instruct himself in regards to witness testimony.
But as it was a judge-alone trial, this was ruled to have been "trivial" and unlikely to influence the outcome.
Durani would have been eligible for parole next month, but it's understood he hasn't been able to do a mandatory course in the six months pending the ruling on his appeal.
- AAP