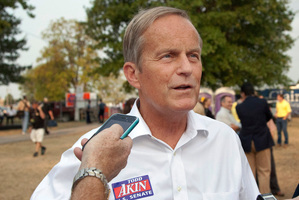 A Missouri congressman who attracted universal condemnation for suggesting that victims of "legitimate rape" are unlikely to become pregnant has defied the Republican Party establishment by refusing to stand down in the forthcoming elections.
Congressman Todd Akin appeared in a new TV campaign ad in which he apologised for his remarks, saying, "I used the wrong words in the wrong way."
However as a deadline passed for him to voluntarily withdraw from the Senate contest in the November 7 election or lose funding, he was still ignoring the appeals for him to step aside - including from presidential contender Mitt Romney.
Akin's defiance has dramatically exposed the rift in the Republican Party between the moderate establishment and the radical social conservatives on abortion and rape.
While Romney has made his view clear that there can be exceptions to an abortion ban in the case of rape or incest, his new running-mate, Tea Party darling Paul Ryan, had not called for any such exceptions in the past.
American news media have found ample evidence that the view of Akin - who contended that women's bodies can shut themselves down to ward off pregnancy during rape - is actually valid currency in the Republican Party.
In particular, the Atlantic dug up a statement by Romney in 2007 praising Dr John C. Willkes, a proponent of the scientifically baseless theory, as "a man who has meant so much to the pro-life movement in our country".
The Republican Party is meanwhile readying - not for the first time - a party platform that says the US constitution should be amended to ban abortion except in cases where the mother's life is in danger, according to CNN. There would be no exceptions for cases of rape or incest.
The platform is due to be approved at the party convention in Tampa, Florida, that will officially anoint Romney and Ryan as the presidential and vice-presidential nominees next week.
Akin went from a congressman practically unknown in the country to a man described by the Washington Post as "the scariest man in the GOP" after a TV appearance on Monday. He told an interviewer: "From what I understand from doctors ... if it's a legitimate rape, the female body has ways to try to shut that whole thing down."
In the ensuing firestorm, Romney distanced himself from the comments by Akin - a member of the House Science and Technology Committee - which he described as offensive and wrong.
Sensing a potential game-changer less than three months from the elections, President Barack Obama staged a surprise news conference at the White House during which he affirmed: "Rape is rape."
Yesterday, Romney went further still: in a statement issued an hour before the deadline after which Akin stood to lose US$5 million ($6.1 million) in party funding, he appealed to the congressman to accept the counsel of "fellow Missourians" and "exit the Senate race".
But Akin, who won a Republican primary to run against Democratic incumbent Senator Claire McCaskill in the Midwestern swing state, turned a deaf ear to the party grandees who are worried about Republican prospects of seizing back a Senate majority from the Democrats.
"He marches to an entirely different beat," said a Republican strategist quoted by the Washington Post. "He believes that his race is providential, that God has willed his win."
The latest polling, by NBC/Wall Street Journal, shows Obama with a significant lead over Romney among female registered voters of 51 per cent compared with 41 per cent. Overall, in the presidential race, Obama and Vice-President Joe Biden are ahead of Romney and Ryan by 48 to 44 per cent.
Yet Romney holds a six-point advantage over Obama - 44 per cent to 38 per cent - on how to improve the economy.
Jobs and economic recovery remain the top priority of American voters. So Romney's support on that front could be eroded if the social conservative base continues to dominate the conversation as it has since the former Massachusetts Governor picked Ryan as his running-mate.
The campaign has moved in an unexpected direction in the past 10 days since Ryan - the chairman of the House Budget Committee - was nominated. First the debate turned to his radical plans to reform Medicare benefits for the elderly, and now to abortion and rape. On both issues, the Republican establishment is tactically at odds with the party radicals who will be fired up at next week's convention.
REPUBLICAN VIEWS: WHAT THEY SAID
Todd Akin
The man at the centre of the "legitimate rape" storm dashed the hopes of Republican grandees by saying, "We are going to continue with this race for the US Senate". He added: "I'm in this race for the long haul, and we're going to win it."
Mitt Romney
The party's standardbearer told Akin to quit: "Today, his fellow Missourians urged him to step aside, and I think he should accept their counsel and exit the Senate race." Missouri Senator Roy Blunt had issued a joint statement with former Republican Missouri senators saying Akin should step aside.
Mike Huckabee
The former Republican presidential candidate attempted to defend Akin by saying that "extraordinary" people had been conceived during rapes. "Even from those horrible, horrible tragedies of rape, which are inexcusable and indefensible, life has come," said the former Arkansas Governor and favourite of the party's right, who has been given a high-profile speaking slot at the convention.
Steve King
One of Iowa's Republican Congressmen, he described Akin as "a strong Christian man" and said public funding for abortions in cases of statutory rape or incest should be scrapped because he had never heard of victims of such crimes becoming pregnant.
Scott Brown
The Republican Senator for liberal Massachusettes wrote to Republican National Committee Chairman Reince Preiebus urging more inclusiveness on the issue of abortion in the party's 2012 platform. He said media reports of the draft opposing a woman's right to choose and supporting a constitutional amendment banning abortion was "a mistake because it fails to recognise the views of pro-choice Republicans like myself".