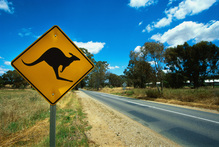 If you blinked, you could miss Mutchilba, a tiny north Queensland hamlet surrounded by mango and avocado farms. Locals, though, are quite attached to their town - so they were horrified to discover recently that it had been wiped off the map.
Their suspicions were first aroused when their mail started ending up at the post office in Dimbulah, 13km away.
Then tales began to emerge of ambulance drivers getting lost en route to Mutchilba. One local farmer, Karen Muccignat, began investigating the mystery - and discovered that the town, unbeknown to residents, had been officially merged with Dimbulah.
Quite how it occurred is not certain, but it seems that during a federal Government reassessment of Australian towns and localities, Mutchilba got deleted. "I was in shock," Muccignat told the Herald.
"It's lucky I was sitting down when I found out. I was quite speechless to find that my town no longer existed."
The Queensland Government believes Mutchilba disappeared in 1999; however, locals are convinced it happened more recently.
One thing is certain: they want their town back.
"We're not a suburb of Dimbulah," said Muccignat. "A lot of people have lived here for a long time, and everyone was under the impression we were living in Mutchilba."
The state Government is doing all it can to fix the situation, but first Mutchilba has to jump through a series of bureaucratic hoops, including consulting the community on town boundaries. In the meantime, the state Premier, Campbell Newman, has written a letter of support, as has Bob Katter, the federal MP, who visited the town.
Mutchilba consists of one shop, a community hall, a post office, a school (with 27 pupils) and a dozen houses. But it has been a town since 1901, when a railway station was built there. It used to stage an annual Mango Mardi Gras, and is considering reviving the festival.
"There's a strong sense of community pride," said Muccignat.
The confusion has created some potentially serious situations. When local Harry Adams suffered a heart attack recently, he telephoned for an ambulance. He found himself arguing with the emergency operator - who wanted to send a team to Dimbulah - about where he lived.
Muccignat wants the mistake remedied as soon as possible. "We're hoping we'll get our name back by Christmas."
By Kathy Marks

Email

Kathy