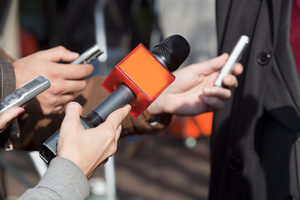 With a keen imagination, a decent poker face and a career that sometimes revolves around being economical with the truth, it was perhaps inevitable that PR strategist Ryan Holiday would have a formidable talent for pretending to be someone he's not.
Even he was surprised by quite how formidable that talent was, though.
In a burst of relentless self-promotion that lasted just a few weeks, the self-confident 25-year-old managed to lie his way on to the pages, websites and airwaves of an extraordinary cross-section of America's news-gathering organisations.
Holiday decided, by way of an experiment, to get himself quoted as an expert source by the writers of articles and blogs on as many different subjects as possible. The big catch: he wasn't an expert in any of the subjects in question, and some of the time, he wouldn't even speak to the writers.
Holiday ended up not just appearing on dozens of blogs, but also in supposedly blue-chip forums.
On Reuters, he was quoted as a bright young member of "Generation Yikes". On ABC, he claimed to suffer from insomnia. When MSNBC carried a piece on "flu etiquette", he popped up telling a fictitious anecdote about a boss who sneezed in his face while he worked at Burger King.
Readers of the CBS news website were regaled with a made-up tale about Holiday's former workplace.
Holiday's stunt, which aimed to promote a book about his career as a publicist called Trust Me, I'm Lying, was facilitated by a website called Haro, or "help a reporter out".
The site allows hard-pressed journalists seeking "expert" case studies to connect with people who fancy seeing their name in print.
"I think of the site as a microcosm of everything that's wrong with journalism in the era of the online medium," he told the Independent on Sunday.
"My premise was that plenty of blogs would be fooled, but not traditional outlets. In the event, I found that mainstream news organisations were just as easily taken in."
Part of his success is undoubtedly testament to his skill as a liar. But plenty can also be attributed to sloppy journalism.
Each day, Haro would email him a list of reporters in need of a case study, with outlines of the subject they were writing on. He'd reply to the ones he thought might be easily fooled.
Many writers of articles in which he was later quoted never actually bothered to speak to him: instead they exchanged emails.
His finest hour came thanks to the New York Times. In April, the paper ran a piece on vinyl record collectors and Holiday was quoted declaring them to have "a fuller sound".
"This whole process has taught me that the difference between a journalist and a blogger these days is a lot smaller than you think."
- Independent