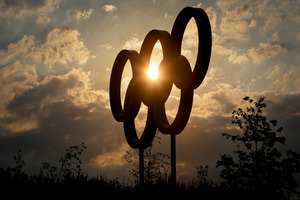 An Olympic competitor has become the first to claim political asylum in Britain at this year's Games.
The man, believed to be an African middle distance runner in his 20s, was being held by the UK Borders Agency last night after walking into a police station in Leeds.
The move follows warnings from immigration officials that they fear up to two per cent of athletes, team officials and supporters may claim refuge in the UK or try to stay here once their visas expire.
It is understood the athlete disappeared from a training camp as he and his team were preparing to move to London.
The sportsman, whose identity was not revealed by the authorities, claimed he was a victim of persecution in his homeland.
Details of the claim emerged yesterday in the Olympic Village where one East African team official said he believed a second man - an Olympic official - was also preparing to claim asylum.
Last night a spokesman for West Yorkshire Police said a man who was "believed to be an Olympic athlete" walked into Bridewell police station in Leeds on Tuesday.
She said he was "seeking asylum" and added: "He was handed over to the UK Border Agency who are now dealing with it."
Immigration officials were checking the man's travel papers and Olympic accreditation documents as well as his movements since arriving in Britain.
After turning his back on his homeland, it is now inconceivable that he will take part in the Olympics.
His whereabouts were unclear last night but Home Office sources suggested he was in "secure accommodation" outside London while his case is investigated. While they expected asylum claims, what has surprised officials is that the application was made before the athlete had competed - most claims at previous games have been made post competition.
Investigators have identified several countries where they "expect" asylum claims from athletes and supporters given visas specifically to attend London 2012.
At the 2002 Commonwealth Games in Manchester, more than 20 members of one West African country went 'missing' from their team camp and sought to stay in the UK while at one major games in Australia, 22 competitors from five different African nations sought sanctuary.
Some groups supporting gay male and female athletes and officials have openly encouraged them to take advantage of being in the UK to claim asylum and seek protection from persecution in their home country.
- DAILY MAIL