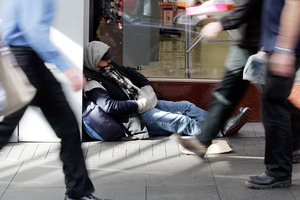 Unions claim 10,000 public-sector jobs have gone since March. Photo / Doug Sherring
Public service job losses could add to far north Queensland's homelessness problem, an expert warns.
The Cairns Institute director Professor Hurriyet Babacan says the city is a hotspot for homelessness.
While this brings to mind images of people sleeping on the streets, the problem is not necessarily that visible, she says.
"In Cairns that's only six percent of the homeless," she told AAP.
"The bulk of the homeless are people doing it hard. They're couch surfing, they're living with crowded families."
Prof Babacan says the loss of thousands of public service jobs from state government cost-saving measures could make the problem worse.
"We're worried that what you're going to see is increasing pressure on these hidden elements, which is the bulk of homelessness," she said.
"You're not going to see homeless people in the street, but you're going to see crowded conditions, makeshift shelters."
The job cuts come as the government is reviewing public housing, and Prof Babacan says any reduction in those housing units would also see the situation deteriorate.
"The government's not saying they're going to invest in more housing stock. They're just saying they're reviewing it," she said.
"The fear is that will result in less because there's a lot of old stock that needs to be got rid of, and that may or may not be replaced."
More than 1300 people are sleeping rough in Cairns according to Census figures, about double the numbers in Brisbane and the Gold Coast.
The government has cut about 3000 temporary staff from its workforce and announced hundreds more job cuts.
Unions claim 10,000 public-sector jobs have gone since March.
The Cairns Institute is part of James Cook University.
-AAP