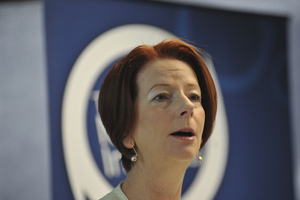 Sydney is now fighting a war on two fronts - and not liking it one bit.
Bad enough that it has to constantly fend off Melbourne in the rivalry that has burned since the two cities battled to become Australia's capital, lost for both when a remote sheep station was instead picked as the site for the federal citadel of Canberra.
Now Sydney is being hammered by Brisbane, first on the footy field - seven straight losses to Queensland in the State of Origin series - and now seeing the northern city handed hosting rights for the 2014 G20 summit. New South Wales politicians described the choice as an "insult" and warned of the reaction in the world's most powerful offices ... "Brisbane? BRISBANE?" That's if they knew where it was ...
Grinning Queenslanders have simply flipped a smug bird. "Sydney better get used to being beaten by Brisbane" the city's Lord Mayor, Graham Quirk, said. "We're coming to get them on a whole range of events in this city over the next few years."
Sydney has grown used to being the image of Australia with its harbour, Opera House and bridge. It is the nation's biggest city: 4.6 million people at the last count, against about 2 million in Brisbane, which the southerners tend to treat as a pleasant sort of tropical hicksville.
But Brisbane is growing much faster, at almost twice the rate of Sydney, and is the apex of the exploding triangle anchored north and south by the Sunshine and Gold Coasts. Sydney wanted the G20 gathering, both for the prestige of hosting the leaders of the world's most powerful economies and for the economic pump that will accompany it - even with the A$370 million (NZ$475.2 million) bill taxpayers will be slugged with.
Now Sydney is throwing a massive hissy fit. The conservative NSW Government blames Prime Minister Julia Gillard, claiming she's trying to use the summit to win back a state that on latest polls will not return a single Labor MP at the next election.
"It would appear that Julia Gillard is quite prepared to use the world's leaders as her own political playthings by taking them to Brisbane in an effort to shore up the Labor vote in Queensland," NSW Planning Minister Brad Hazzard said. "It's insulting to the 20 leaders. We have the harbour, we have the Opera House, we have everything that should have been available to sell Australia to the world." Sydney Business Chamber director Patricia Forsythe added: "The only decision the Government should have taken ... was on Sydney ... one can only assume raw politics got in the way."
In the Daily Telegraph, columnist Joe Hildebrand weighed in with 20 reasons the summit should have gone to Sydney which included:
People overseas have actually heard of Sydney, which had some buildings built before 1973 and where you could go for a harbour cruise that did not require a six-hour drive first
Delegates were less likely to be called "white trash" by locals
Spaghetti bolognese wasn't considered "exotic"
Fried rice did not come with peas
The Rocks was a place that didn't just exist inside the locals' heads.
But fellow Fairfax writer Malcolm Farr reminded Sydneysiders of their "prolonged whinge-a-thon" before, during and after the 2007 Apec summit, and John Birmingham said on brisbanetimes.com.au that "a true world city wouldn't bitch and moan about missing out". Nor did Gillard mollify Sydney by pointing out that it couldn't host the summit because of its overly-congested airport and with its decision to close the Darling Harbour convention centre during construction of a replacement.