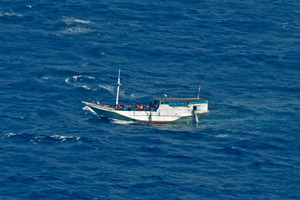 The navy has responded to a distress call from a second asylum-seeker boat in as many days.
The boat made three distress calls about 100 nautical miles north of Christmas Island last night.
HMAS Childers arrived at the scene this morning and boarded the vessel.
"Initial indications suggest there are 65 people on board," the Australian Maritime Safety Authority (AMSA) said in a joint statement with Customs and Border Protection.
"For safety and operational reasons, the people on board the vessel will be transferred to HMAS Childers and ACV Triton."
Yesterday, HMAS Childers responded to another boat that had made a distress call.
Australian and Indonesian authorities launched a major rescue operation but border protection officials found the boat showing "no visible signs of distress".
- AAP