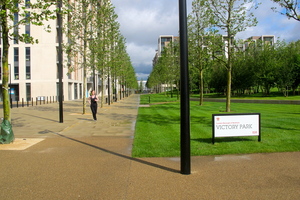 Under a grey and jet-streaked east London sky, a sprawling citadel that feels part-student digs, part-executive lifestyle development and part-secret research facility, is finally but undeniably coming together.
Next week, the London 2012 Olympic Village will draw back its heavily guarded doors to admit the first wave of Games officials before the event begins on July 27.
By then, all being well, the golf carts and JCBs that now beetle along its boulevards on last-minute delivery hauls will have vanished, leaving a pristine, tree-lined and flag-bedecked £1 billion ($1.94 billion) testament to British planning and delivery.
Its calming ponds, neat lawns and leafy avenues will offer a soothing counterpoint for the athletes who have survived the ordeal of clearing village security - a combination of the sternest and least lovely features of an airport, a military base and a correctional institution - as I discovered when I spent a night sleeping on site, testing the facilities that the athletes will enjoy when they arrive in three weeks.
Competitors passing through the entrance will find their coach paused in a thick concrete gatehouse while an affable spaniel has a sniff around - "This way, sweetheart, good girl," coos her handler - and a man with a mirror on the end of a stick searches the underside of the vehicle for unwelcome additions.
At the end of the lanes of electrified fences and barbed wire, which nod to Checkpoint Charlie but lack a sign to inform visitors that they are now leaving the Stratford sector, is the welcome centre, with its bag scanners and metal arches. Once you've made it past the dogs and the scanners, the development takes on a more pleasing and homely aspect.
Despite the lofty street names - Victory Park, Anthem Way, De Coubertin St, Ulysses Place - the 11 accommodation blocks and the 2818 apartments they contain offer their own peculiarly British brand of quirk.
The ceiling of the lobby of Heritage 1 is festooned with lampshades in the shape of bowler hats and a table in the corner boasts a range of board games to help competitors unwind: chess, Scrabble and Monopoly for the more thoughtful; dominoes and Jenga for the more time-pressed.
The rooms themselves are, necessarily, a little more utilitarian - but when you're psyching yourself up for the moment to which the last four years of training, discipline and self-denial have led, you're probably not going to want anything more distracting in your living space than bare white walls, laminate flooring and a clean, albeit shared, bathroom. Which is just as well.
Apart from the bright green table and chairs on the balcony - if you're lucky enough to get one - the only concessions to colour in the apartments are the blue curtains and sofas and the gaudy, sports-themed bedspreads.
The beds themselves could charitably be described as basic and don't expect Egyptian cotton sheets and Hungarian goose down pillows.
The only missing element in the bedroom was a light: through a rough hole in the ceiling, a length of cable emerged like the head of a forlorn snake. Others complained of more basic problems, notably a lack of running water.
Such blips aside, the people who helped design the village, which will be used to create homes for thousands of people after the Games, are pleased with how it has turned out. Jonathan Edwards, the Olympic gold medal-winning triple jumper who chaired the athletes' committee, said he was satisfied the apartments would give competitors the best possible home-from-home. "We know what it's like to live in an Olympic Village and we know what works and what doesn't," he said. "It's simple things like comfy beds, black-out blinds; internet access, TVs, great food. The athletes don't come in here expecting to be in a five-star spa resort. It is relatively basic, but it's got everything they need."
The athletes' greatest need is catered for in the village's hangar-like dining hall, which, the organisers proudly but ominously claim, is the world's largest peacetime eating room.
The 225m x 80m tent, which could accommodate 880 double-decker buses - should the need ever arise - will be open 24 hours a day. It can seat 5000 at a time, will provide sustenance for 65,000 people on its busiest day and will dish up 1.2m nutritionally balanced meals over the Games.
Menu choices include British, Asian, Mediterranean and halal food, while for those partial to a post-event blowout or quick chicken nugget fix before a record-shattering race, there's the inevitable McDonald's.
According to businessman Charles Allen, mayor of the village, both the food and the surroundings in which it is served have been designed to give overseas visitors a taste of the real Britain. "If you look around, it does feel like London - it does feel like Hyde Park," he said. "[People will be] having British street food; they'll be having fish and chips, they'll be having burgers ... And then there's the whole thing about effectively having a British pub."
Ah, the pub. While the village's Globe centre does indeed have pool tables, live music and rockaoke, it differs from the typical boozer in one quite key respect: look along the shelves behind the bar and you'll find only two refreshment options: Coca-Cola and Powerade. Athletes looking for a little alcoholic aid in making temporary friends will instead have to rely on charm, superior musculature and medals.

-Observer