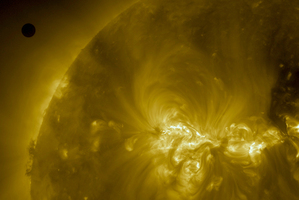 Some New Zealanders were lucky enough to catch a once in a lifetime glimpse of Venus passing over the sun today but cloud over much of the country prevented many others from spotting the Transit of Venus.
The weather stayed clear in Southland, making it the best spot to watch the rare astronomical event.
At Lake Tekapo, in Mackenzie County, the sun had been sitting behind the only clouded area in the sky all morning, preventing astronomers from spotting the Transit of Venus, but this afternoon it moved from behind the cloud and the transit became clear.
Anywhere north of Lake Tekapo would have been hard-pressed to notice anything in the sky apart from thick cloud.
The transit started about 10.15am, with the middle of the event around 1.30pm. Venus reached the far edge of the sun by 4.25pm and the event ended around 4.45pm.
MetService meteorologist Daniel Corbett said it had clouded over in Auckland and Northland, and while it had been ``pretty good'' around the East Coast of the North Island this morning cloud had crept into their skies too.
In Waikato and Taranaki there were some breaks in the cloud, allowing brief glimpses of the Transit of Venus.
But the best place to have a chance of spotting it was in Southland, Otago and Fiordland.
"They've got lovely blue sky,'' Mr Corbett said.
At the Mt John University Observatory, part-time observer Pam Kilmartin said they received nice images.
"We were enviously watching down towards Twizel, because it had the sun probably most of the morning and we could see the shadow about half way down the Mackenzie plain, we had the sun behind the cloud for quite a while but now everything is nice and we can see the image of Venus on the sun.''
The observatory had not been too busy with people wanting to watch the event because snow had closed the road.
"People are walking up the hill so we've had a few visitors come in and have a look.''
According to the Royal Astronomical Society of New Zealand website, Venus is visible as a small black dot on the face of the sun.
It is very small - only three per cent of the diameter of the sun, and appears as an intensely black spot in contrast to the bright sun.
People were warned that staring directly at the sun could cause serious eye damage.
The Royal Australian and New Zealand College of Ophthalmologists encouraged people to watch the event online or on television.
"No matter what recommended technique you use, do not stare continuously at the Sun and do not use sunglasses alone as they don't offer your eyes sufficient protection.
"There are no pain receptors on the retina so you won't even know you are doing damage.''
It is the same occurrence that Captain James Cook was dispatched to Tahiti on HMS Endeavour to observe in Tahiti June 3, 1769.