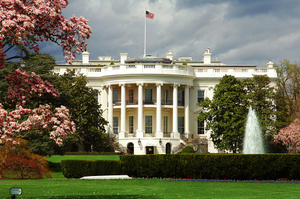 House hunting?
Got a spare US$110 million (NZ$132 million)?
You could buy 1600 Pennsylvania Ave (a.k.a the White House) if it were on the market, of course.
That's the price tag real estate strategist Jason Koitz has placed on the home of the President of the United States of America, according to real estate website Montovo.
"I think just based on the size and location; the list price would be in the low $100 million range. It would probably be $110 or $115 (million). This would be an extreme luxury home."
The figure was based on comparisons with the value of other expensive in the Washington DC area.
"When you add the historic value to it, the sky's the limit," Koitz told Movoto.
"We could realistically be talking the world's first billion dollar purchase for a single-family house."
By comparison, the British PM's house of residence, 10 Downing St, was valued at $7.3 million in 2010, while the Queen's Buckingham Palace has been estimated to be worth about US$1.6 billion.
The White House's 55,000 square feet contains 132 rooms, 35 baths, 28 fireplaces, 413 doors, 147 windows, eight staircases, a tennis court, bowling alley, movie theatre, basketball court, swimming pool and jogging track.
- Herald Online