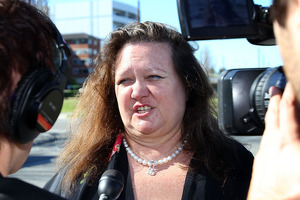 The war of words tearing apart Australia's richest family intensified yesterday, with newly released court documents revealing claims that mining magnate Gina Rinehart tried to prevent her three eldest children inheriting their share of a family trust for a further 57 years.
John Hancock, Bianca Rinehart and Hope Rinehart Welker, who launched legal action against their mother last year, claim she secretly changed the date when they were due to inherit from 2011 to 2068.
They also say she placed them under "illegitimate emotional and financial pressure" to drop their lawsuit to have her removed as trustee of the Hope Margaret Hancock Trust.
The allegations are contained in documents released to the media after Rinehart - whose wealth was estimated by Forbes last week to be A$17.1 billion ($22 billion) - lost a six-month battle to have the court proceedings kept secret.
The papers also reveal Rinehart warned her three children they faced financial ruin if they inherited, as each would be liable for a potential capital gains tax bill of A$100 million.
In a letter last September to all four children - her youngest daughter, Ginia, is siding with her in the dispute - Rinehart wrote: "It may ... be reasonably arguable that personal development-wise it would be in the best interests of the beneficiaries to force them to go to work and reconsider their holidaying lifestyles and attitudes."
The documents have also widened the rift between Ginia Rinehart, 25, and her three siblings.
In her statement of claim, Ginia wrote they were not "fit and proper persons" to be in charge of the trust, said to be worth up to A$5 billion.
"None of the plaintiffs has displayed the degree of perseverance, work ethic, responsibility that would be required to administer the trust," she said. They had a "history of personal conflict with one another" and with their mother, she added, and if they were allowed to take over administration of the trust it would have a significant negative impact on the family's mining empire.
Ginia Rinehart also released a statement yesterday accusing her brother of creating "falsities and spreading them globally", and describing the legal action as "nothing but a destructive display of greed, jealousy and a selfish sense of entitlement on behalf of my siblings".
That appeared to be a response to a statement by Hancock last Friday in which he said he had relied on his own business skills to make a living, although "I won't be able to replicate my youngest sister Ginia in 'earning' the achievement of a Rolls Royce at 25".
Yesterday he and Bianca said Ginia was being "used" by her mother, with Bianca saying Ginia had emailed them when they began the court action to say "she supported us 100 per cent".
In her statement of claim, Bianca accused her mother of acting "with gross indecency" and "deceitfully" in her dealings with the three children.
She and her siblings say Rinehart warned them they faced bankruptcy because of the tax bill, but refused to disclose the financial advice on which she based that claim.
The documents also reveal that two federal politicians, Barnaby Joyce and Alby Schultz, both friends of Rinehart, have weighed into the dispute.
The former urged the children to keep the affair "in house" because "newspapers and lawyers get people to say nasty things".
Schultz entreated them to drop the lawsuit, calling it a "horrific step".
Rinehart's mining company is almost one-quarter owned by the trust, which was set up in 1988 by Rinehart's father, Lang Hancock, with his four grandchildren as beneficiaries.