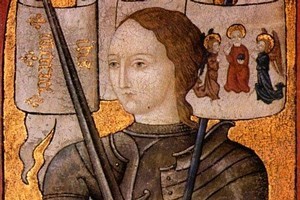 Almost six centuries after she was burnt by the English, Joan of Arc has become the centre of a political struggle as President Nicolas Sarkozy tries to free her from captivity.
Not from English captivity but from her status as a foreigner-bashing, official heroine of the French far right. Yesterday marked the 600th anniversary of Joan's birth.
Overnight Sarkozy was to take time out from rescuing the French and European economies to attend events in her native village of Domremy-la-Pucelle in the Vosges. He was also to visit Vaucouleurs in Meuse, where Joan - or Jeanne or Jehanne - (1412-1431) spent the early part of her brief career as a religious visionary and resistance leader.
The xenophobic National Front adopted Jeanne d'Arc as an icon of ultra-nationalism two decades ago. The National Front will celebrate her birthday with an open-air rally led by the party's leader Marine Le Pen and its founder, Jean-Marie Le Pen, in Paris tomorrow.
Sarkozy first attempted to wrestle Joan from far-right ownership during his bid for election in 2007. So did his principal rival, Segolene Royal. Although Sarkozy is not yet a declared candidate, his appearances today are expected to mark his entry to the presidential campaign.
Sarkozy will hope to, like Joan, pose as the saviour of a French way of life menaced by arrogant external forces and internal divisions and weaknesses, implying that he, not the National Front, is the true guarantor of French nationhood.
There is nothing new in posthumous attempts to recruit Joan of Arc to political or religious causes. She was virtually forgotten by the French for 400 years, until her re-invention first as a patriotic-republican and then as a religious-conservative heroine in the mid 19th century.
The cross-dressing peasant girl was directed by "voices" of saints, to lead the French armies and defeat the English. She lifted a cruel siege of Orleans; created a sense of French nationhood; changed the course of the Hundred Years War; but was betrayed by French traitors and burned by the English as a heretic and a witch.
The problem is, according to recent French studies, little of that is true. Jeanne never really led the French armies. She was a kind of mascot in armour. She was repudiated by the French king and ended as an independent, guerrilla leader. Her entire military career lasted just over a year. The Hundred Years War continued for 22 years after her death. In any case, her enemies were also French and Burgundian in what amounted to a three-way civil war.
She was captured by the Burgundians outside Compiegne in 1430 and King Charles ungratefully refused to ransom her. The English paid £10,000 and handed her to the church, which disapproved of peasant girls who spoke to saints.
After a lengthy trial in Rouen, in which Jeanne defended herself with great intelligence and dignity, she was condemned for heresy and witchcraft (partly for having worn male clothes). She recanted to avoid the stake but a few days later was "found" in her cell dressed as a man. For having "relapsed", she was burnt alive. Joan claimed her women's clothes had been taken away. She had to dress as a man or go naked.
The legend of Joan helped to solidify the "French forces" after her death. She did therefore play a posthumous part in booting the English out of France. Her second trial in 1456, was organised by King Charles to absolve her in death and to help to generate, for the first time, a sense of French nationhood.
In the transcripts of the trials, Jeanne's personality and voice have survived: calm, obstinate, driven but not really fanatical. We learn, among other things, that she was a wonderful cook and a good-looking woman with large breasts.
In the 15th century people, recovering from the black death and beset by terrible wars, saw omens all around them. Jeanne has inspired writers from George Bernard Shaw to Mark Twain and Bertolt Brecht because of the mental strength that an illiterate teenager displayed in standing up to her malevolent inquisitors.
It is possible to dismiss her as a medieval fanatic. It is also possible to see in her the stirrings of an individual conscience, one of the building blocks of Western modernity.
To make her a heroine for xenophobes is to diminish her. To recruit her, 600 years on, to a struggling president's re-election campaign is ridiculous. She belongs to all of us.
Misplaced national icons: St George
It is not only France that has a problem with far-right political parties appropriating national symbols as their own.
England's patron saint is celebrated by right-wing extremist groups such as the British National Party (BNP), the English Defence League and the League of St George as a heroic symbol of the English ideals of honour and courage.
The BNP leader, Nick Griffin, was flanked by a member who was dressed in a St George costume when he launched the party's manifesto on St George's Day in 2010.
Little is known about the almost mythical dragon-slaying saint, but he may not have been the most appropriate symbol for such nationalistic parties.
Legend has it that he was born in Cappadocia (now Turkey) and lived in Palestine before becoming a Roman soldier.
It is doubtful that he ever visited Britain.
- INDEPENDENT