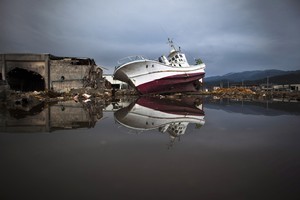 Scientists have revealed that mammoth tsunami that devastated Japan in March was in fact two tsunamis which merged to form one giant wave.
It is the first time a "merged tsunami" has been observed, according to scientists at Nasa.
Satellites from Nasa and European agencies show at least two wave fronts created by the 9.0 earthquake which merged to form a single, double-high wave out to sea.
As the tsunami traveled towards the Japanese coast, ocean ridges and undersea mountains pushed the wave fronts together, keeping the tsunami stable even as it hurtled towards the coast.
Researchers have suspected for decades that merging tsunamis might have been responsible for the 1960 Chilean tsunami that killed about 200 people in Japan and Hawaii, but until now, no one had definitively observed a merging tsunami.
"It was a one in 10 million chance that we were able to observe this double wave with satellites," said Nasa scientist Tony Song in a statement.
"A Nasa-French Space Agency satellite altimeter happened to be in the right place at the right time to capture the double wave and verify its existence."