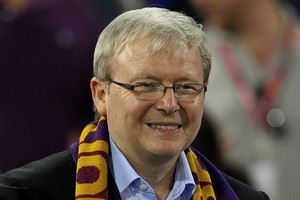 Foreign Minister Kevin Rudd is reportedly being urged to challenge Julia Gillard for the leadership this month.
Senior Labor figures are pushing for Mr Rudd to move to take back the top job as early as the second last week of November, News Limited reported today.
Senior sources within the party's NSW right claim support is leaking away from Ms Gillard, who is in France for the G20 leaders' meeting.
"There are three things that are certain: there is a leadership challenge under way, Rudd doesn't have a majority yet but has enough numbers to be a contender, and they are strategising about how to get it done," a senior NSW right-wing source was quoted as saying.
But there was reportedly mixed support for the idea of an early move, with some MPs claiming they would "deliver the leadership" to Mr Rudd in February if he waited.
- AAP