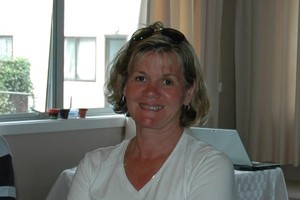 A woman who says her husband confessed to killing New Zealand nurse Michelle Beets has told a jury that police had offered to help her with her visa if she told the truth.
Samantha Marsh said at first she ignored the offer because she and her brother had agreed to "stay loyal".
Ms Marsh was being cross-examined by her husband's barrister Keith Chapple, SC, yesterday in the NSW Supreme Court.
Former United States marine Walter Ciaran Marsh, 51, has pleaded not guilty to murdering Ms Beets, his former nurse manager at Sydney's Royal North Shore Hospital, on April 27 last year.
Her throat was slit and she suffered eight stab wounds to her chest during the attack at her home at Chatswood on Sydney's north shore.
Ms Marsh, who appeared via videolink, previously told the jury her husband had confessed to the killing because he believed Ms Beets was giving him bad job references after his contract was not renewed.
She also said she initially lied to police when she told them her husband wasn't involved in the murder.
Yesterday, she said the police interview in which she told police her husband had confessed to the killing occurred about two weeks after they offered to provide help for her to stay in Australia independently.
"Police told me if I told the truth I didn't have to worry about [my] visa cancellation, that they could assist me and my brother," she said.
"I spoke to my brother ... and we both agreed to ignore it and stay loyal."
Ms Marsh met her US-born husband in her home country of Vietnam in 2007.
Her student visa in Australia was cancelled when she was listed as a dependant on his working visa.
In his opening address, Mr Chapple said one of the major issues in the case would be whether the jury accepted Ms Marsh was telling the truth.
He also said there was very little, if any, physical evidence that shows Marsh was at the crime scene.
The trial is continuing before Justice Derek Price.
- AAP