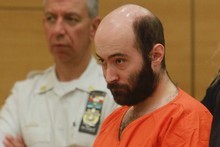 A psychiatric evaluation has found that a man charged with murdering and dismembering an 8-year-old New York City boy has a personality disorder.
It also reveals that his sister died while institutionalized for schizophrenia.
The court-ordered evaluation was viewed exclusively by The Associated Press today. It portrays Levi Aron as a troubled, confused man with a "flat" and "apathetic" mood.
Aron is being held without bail. He was found fit to stand trial last week and has pleaded not guilty.
Leiby Kletzky got lost on his walk home from a Brooklyn day camp on July 11. Prosecutors say he was killed after meeting Aron on the street and asking for help.
According to court papers, the defendant says he heard voices telling him to kill himself afterward.
-AP