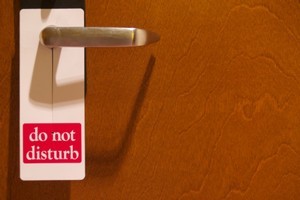 A public servant who was accidentally injured while having sex at a motel on a work trip is challenging a finding she is not entitled to compensation.
Leo Grey, representing the woman, told a federal court there was no suggestion she had engaged in any misconduct. He said her injury occurred during "an ordinary incident of life commonly undertaken in a motel room at night".
The woman, who cannot be named, was injured when a glass light fitting came away from the wall above the bed as she was having sex with a man in November 2007.
News.com.au said the light struck her in the face, leaving her with injuries to her nose, mouth and a tooth, as well as "a consequent psychiatric injury", described as an adjustment disorder.
Her employer had directed she spend the night in the town ahead of a meeting early the next day.
She applied for compensation from ComCare, the federal government workplace safety body, but it found that the sexual activity was not an ordinary incident of an overnight stay like showering, sleeping or eating.
Grey said she had been injured while engaging in "lawful sexual activity, noting there had not been any rule that employees should not have anyone else in their room without express permission of their department".
Andrew Berger, for ComCare, said people needed to eat, sleep and attend to their personal hygiene but "you don't need to have sex".
News.com.au reported that ComCare, which said the woman was having sex with "an acquaintance, who had no connection with her work", would argue that "neither legal authority nor common sense" could lead to a finding that the injury was sustained during the course of her employment.
The appeal is continuing.
- AAP