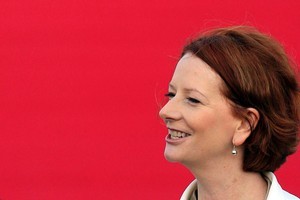 Let the battle begin.
As Labor's stocks hit rock-bottom, Australian Prime Minister Julia Gillard has armed herself with a A$24.5 billion ($31.5 billion) plan to tackle climate change, while delivering tax cuts and shoring up jobs in mining and manufacturing.
Labor, the key country independents and Australian Greens are hoping the Clean Energy Future plan puts paid to Opposition Leader Tony Abbott's relentless attack on the federal government's credibility.
The Abbott onslaught to date has focused on the impact of the carbon tax on the cost of living.
But the plan revealed on Sunday shows prices will go up by only around 0.7 per cent - or A$9.90 a week for the average household, and the compensation will over-compensate to the tune of A$10.10.
And all transport fuel will be exempt, at least until 2014 when excise changes affect heavy transport.
Abbott has also argued that Australia's growth will slow and jobs will be exported to its overseas competitors by becoming the first country to have an economy-wide carbon tax.
While the Treasury modelling admits there is no cost-free way to tackle climate change, the cost of inaction - in terms of long-term damage from climate change and the rising cost of mitigation - is shown as greater than the cost of action.
And the government is banking on other countries, gathering in Durban this December for further UN climate talks, introducing their own similar schemes within the next two decades.
Treasury is forecasting an extra 1.6 million jobs to be created to 2020 with or without a carbon tax, but this will come from a cleaner and greener economy.
Also in terms of jobs, Labor has defied the Greens - who were crucial to the multi-party talks and will be needed to pass the laws in the lower and upper houses - by rolling out a generous $9.2 billion assistance package, which will largely go to under 50 big manufacturers and the highest polluting coal mining companies.
The Greens torpedoed the previous Rudd government carbon pollution reduction scheme for being too generous to industry and not being ambitious enough in its targets.
But senior Labor figures say despite the Greens on the committee not backing the assistance, they are still expected to pass the laws.
They have also been persuaded to back the Gillard scheme by securing a $10 billion fund to invest in clean energy technology, and see 2000 megawatts of the dirtiest power plants shut down.
The assistance will go a long way to calm concerns on the Labor backbench, especially from those in mining and manufacturing seats where Abbott has been campaigning the hardest.
While independent Tony Windsor is set to pass the laws, he disagreed with heavy transport moving to a new tax regime in 2014.
What is not known is just how the plan will shift public opinion.
Gillard has given herself a good shot at swaying voters, but Abbott is likely to seize on some of the guess work in the plan to show Labor remains a risk to jobs and hip-pockets.
- AAP